Last updated 17:00 1st April 2020
Everything you need to know about the current visa situation in Indonesia
As the Covid 19 situation continues to spiral out of control, LetsMoveIndonesia will continue to keep you well informed of changes to government regulations that effect foreign nationals in Indonesia.
Starting from 2nd April 2020 new government legislation will be in effect for all foreigners entering, living and leaving Indonesia.
Below you may see attached the new regulations. Please note that as of yet, there is only an Indonesian version; however, we can also attach a copy of the press release which is in English.
New Regulations PDF (Indonesian Version)
The key points to note are:
1: Travel Ban Entering Indonesia
Indonesia is implementing a travel ban for all nationalities entering Indonesia starting from 2nd April 2020; however, there are exception for the following situation/persons.
KITAS/KITAP holders
Diplomatic visas
Medical & food aid personnel
Sea, air and land transportation crews
Foreigners working on national strategic projects
For these exceptions, you will still be required to follow strict rules as documented in the new regulation. These are:
You must provide a recent health certificate (in English) that acknowledges you are free from the Covid 19 virus.
You must be coming from a country/area that is negative for Covid 19 cases within the last 14 days.
Statement of willingness to enter quarantine for 14 days in facilities provided by the Government of the Republic of Indonesia.
All other visa types apart from KITAS/KITAP will not be permitted to enter Indonesia – this applies to all nationalities.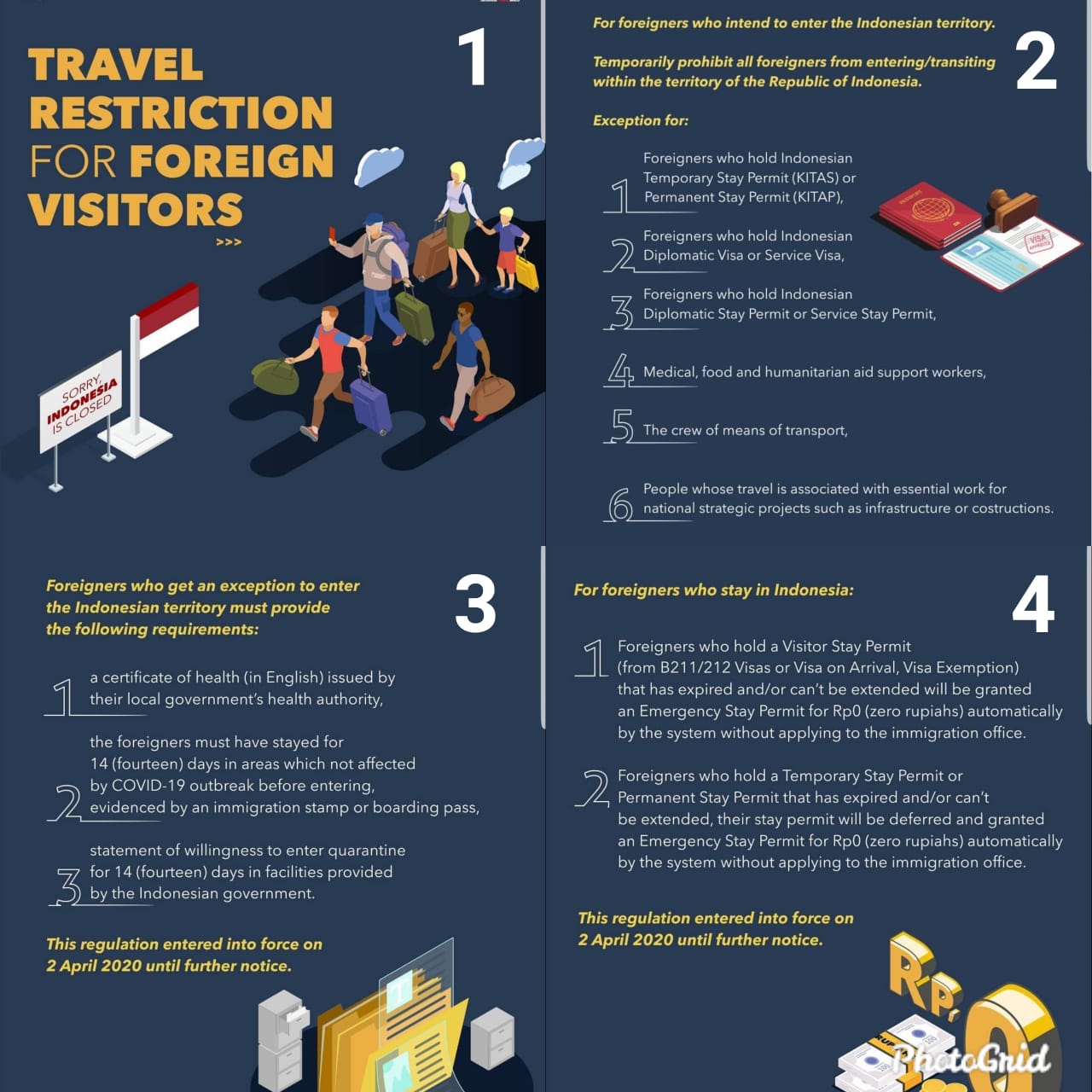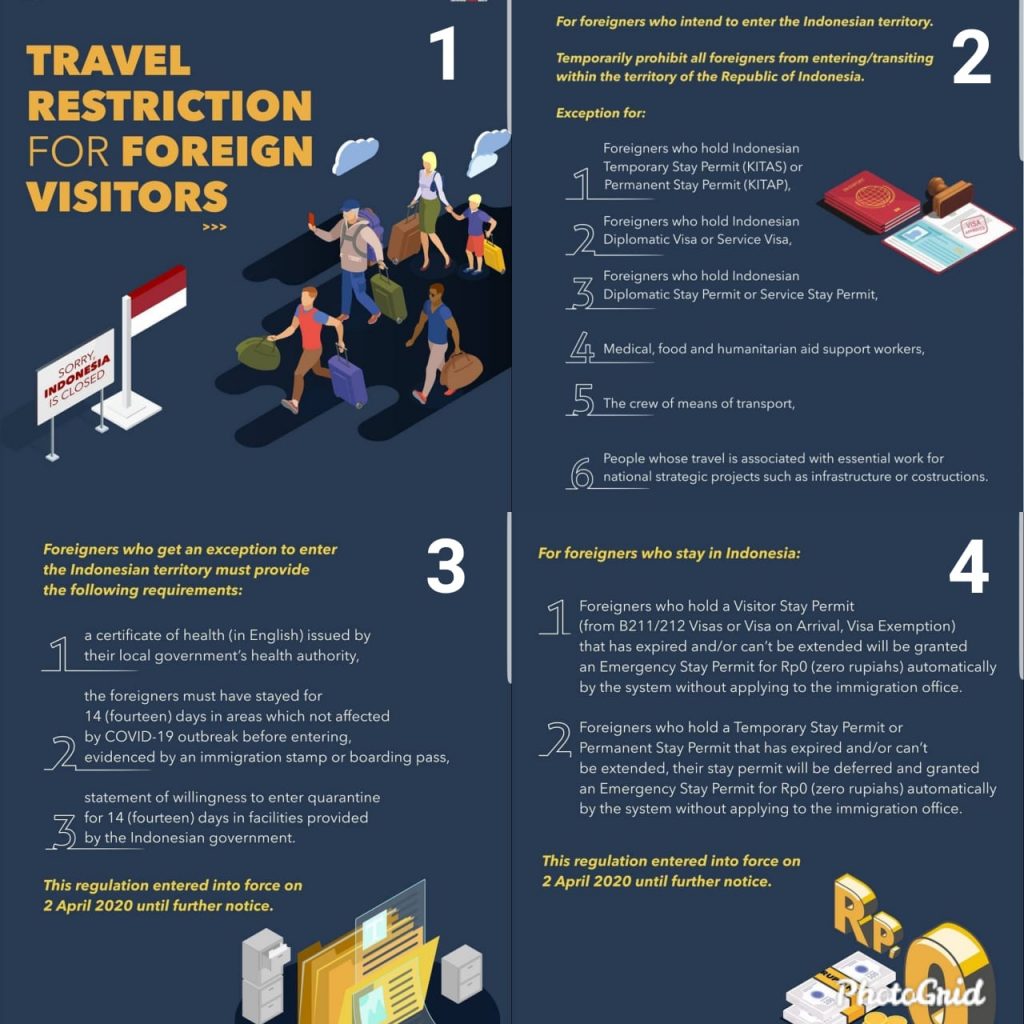 2: Automatic Stay Permit Extension
No matter your nationality or visa type, if your visa has expired is not extendable or you cannot leave the country, you will automatically be granted the stay permit extension. You do not need to visit any immigration office. This applies to all Visit Visas, such as: Visa on arrival (free & paid), Single Entry Visa and Multiple Entry Visa.
Foreigners holding a KITAS/KITAP that has expired and/or cannot be extended will automatically be granted a free of charge emergency stay permit without the need to submit any application to the immigration office.
In previous government regulations it was stated the automatic stay permit extension was for all foreigners who entered Indonesia after 5th February 2020; however, now this date has been revoked and now there is no date restriction for when you entered the country.
3: Extendable Visas
If you possess a visa such as Single Entry, Extendable Visa on Arrival or any form of KITAS/KITAP and you can extend it, you still have to apply for an extension.
If you have a Single Entry Visa or a Visa on Arrival you must extend it as usual. The automatic emergency stay permit is not applicable to cases where you can extend your visa.
Failure to do so, may result in overstay penalties when you leave the country.
4: Previous regulations
All previous regulations are now null and void, the only regulations to follow are those updated in the new regulations dated 2nd April 2020.
5: Leaving Indonesia
If you can leave Indonesia and it is safe to do so, the government still suggests you leave the country. Many countries have closed international boarders, so please check with the immigration authorities of the country you plan to enter.
6: In Summary
If you cannot extend your visa, you will automatically be granted the automatic stay permit. If you can extend your visa, you must. If you can leave the country, it is advisable you do so.
All regulations above will be in effect as of 2nd April 2020 and will be effective until the Covid 19 pandemic status is lifted by the authorized agency.
If you need assistance applying for any visa types or have further questions, feel free to contact the LetsMoveIndonesia team T: 021 300 297 27 E: info@letsmoveindonesia.com
Last updated 12:30 27th March 2020
Yet another update from the Immigration office of South Jakarta, this time they have removed point 3 about the date of entry into Indonesia. Point 3 previously stated "Valid only for foreigners who enter Indonesia territory after 5th February". We have asked the immigration authorities what this means for foreigners and have been advised they are changing the regulations again. We believe that this means they will extend the period of free visas prior the 5th February date.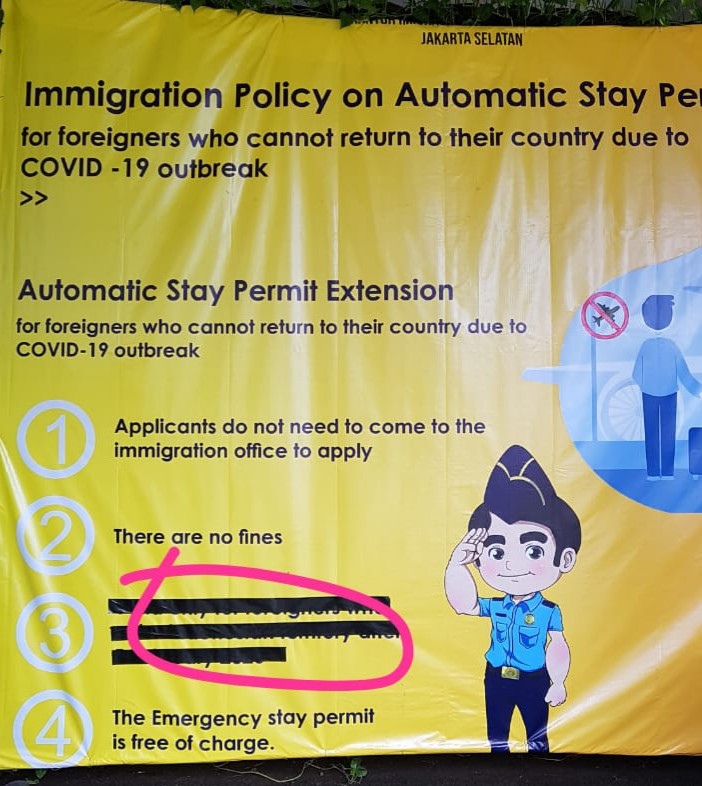 We shall await further confirmation and update this thread as soon as we receive more information – So keep checking in for daily updates!
So in Summary, anyone using a Visa on Arrival, Single Entry Visa or Multiple Entry Visa dated 5th February or onwards, does not need to worry about their visa expiring and is granted the automatic free extension. Moving forwards the government is likely extend this period prior to the 5th February date.
If you need any further assistance or advice, please feel free to contact the LetsMoveIndonesia team.
Last Updated 17:00 26th March 2020
The Indonesian Immigration has basically allowed a free for all. If you are staying in Indonesia and you can no longer leave the country you may stay in Indonesia. No need to go to the immigration office, no supporting evidence. They are advising all foreigners to stay indoors and not go outside. As long as you arrived after the 5th of February.
If you arrived before the of February 2020 and your visa expires, you may still apply for an emergency Visa.
Below are an assortment of Facebook posts from foreigners in Indonesia with a reply from an official Immigration representative.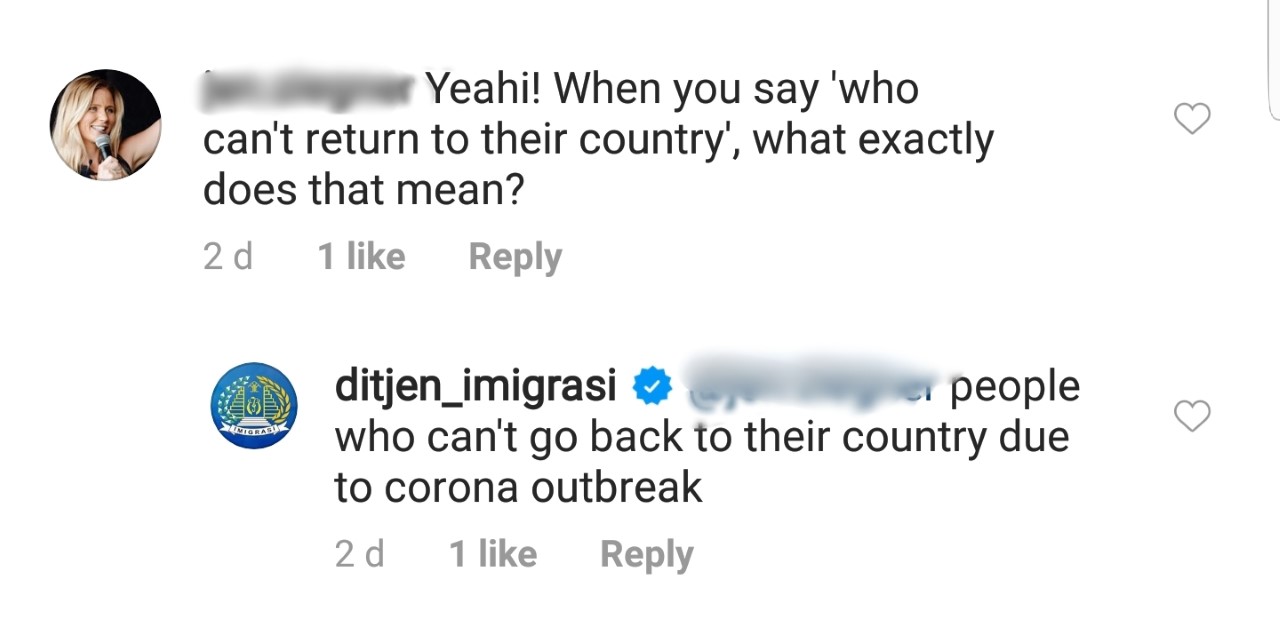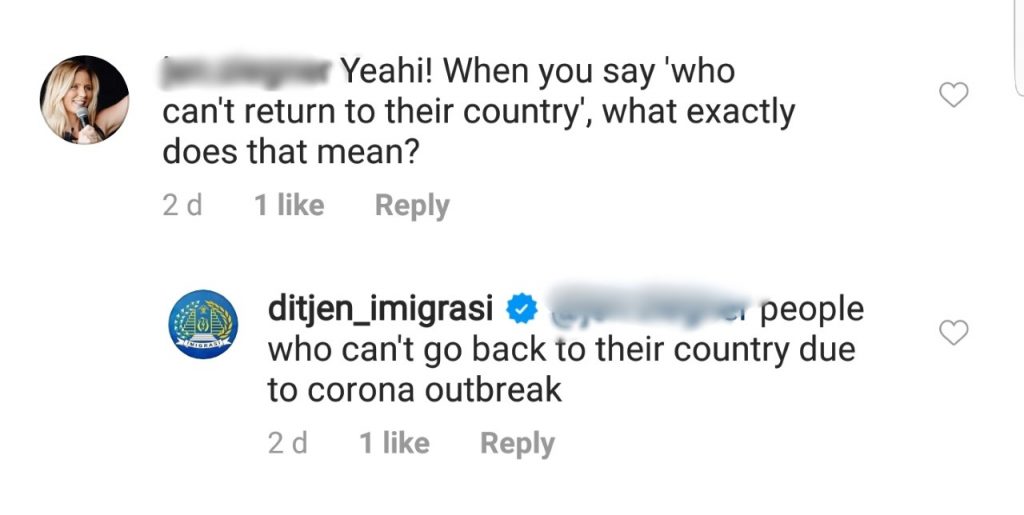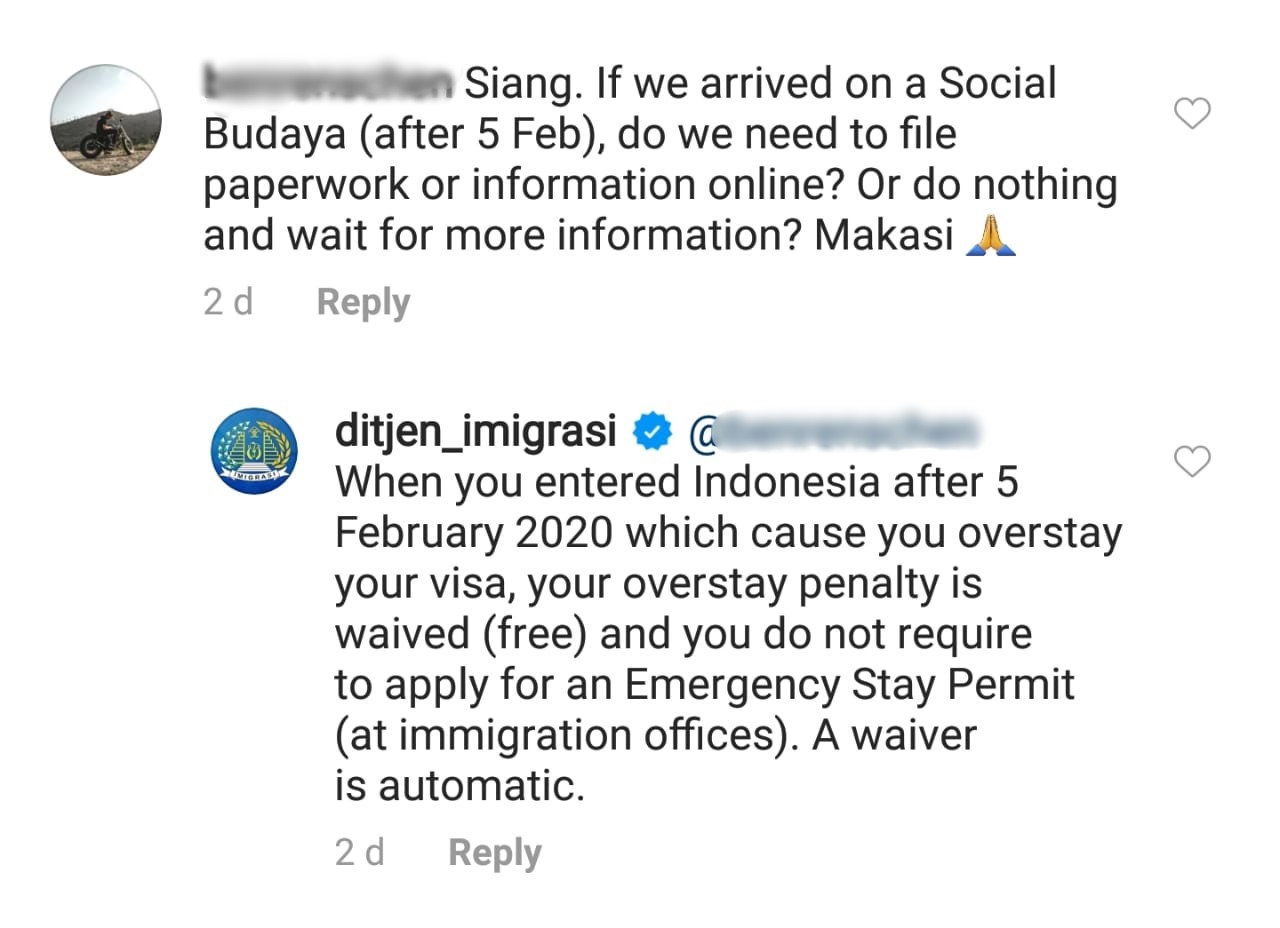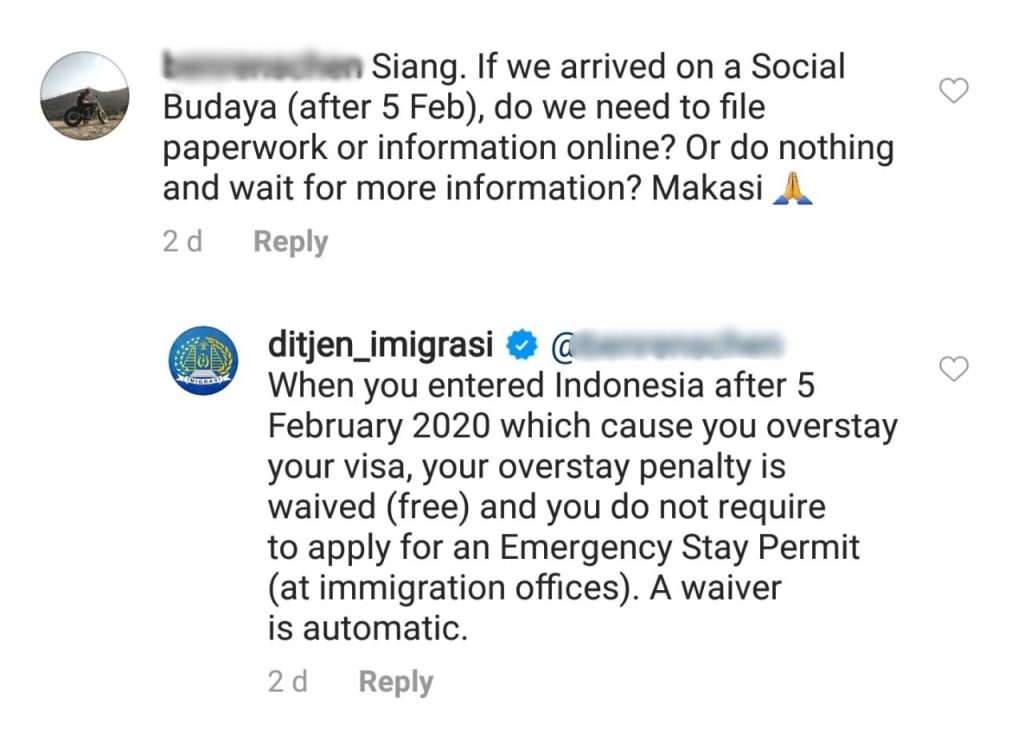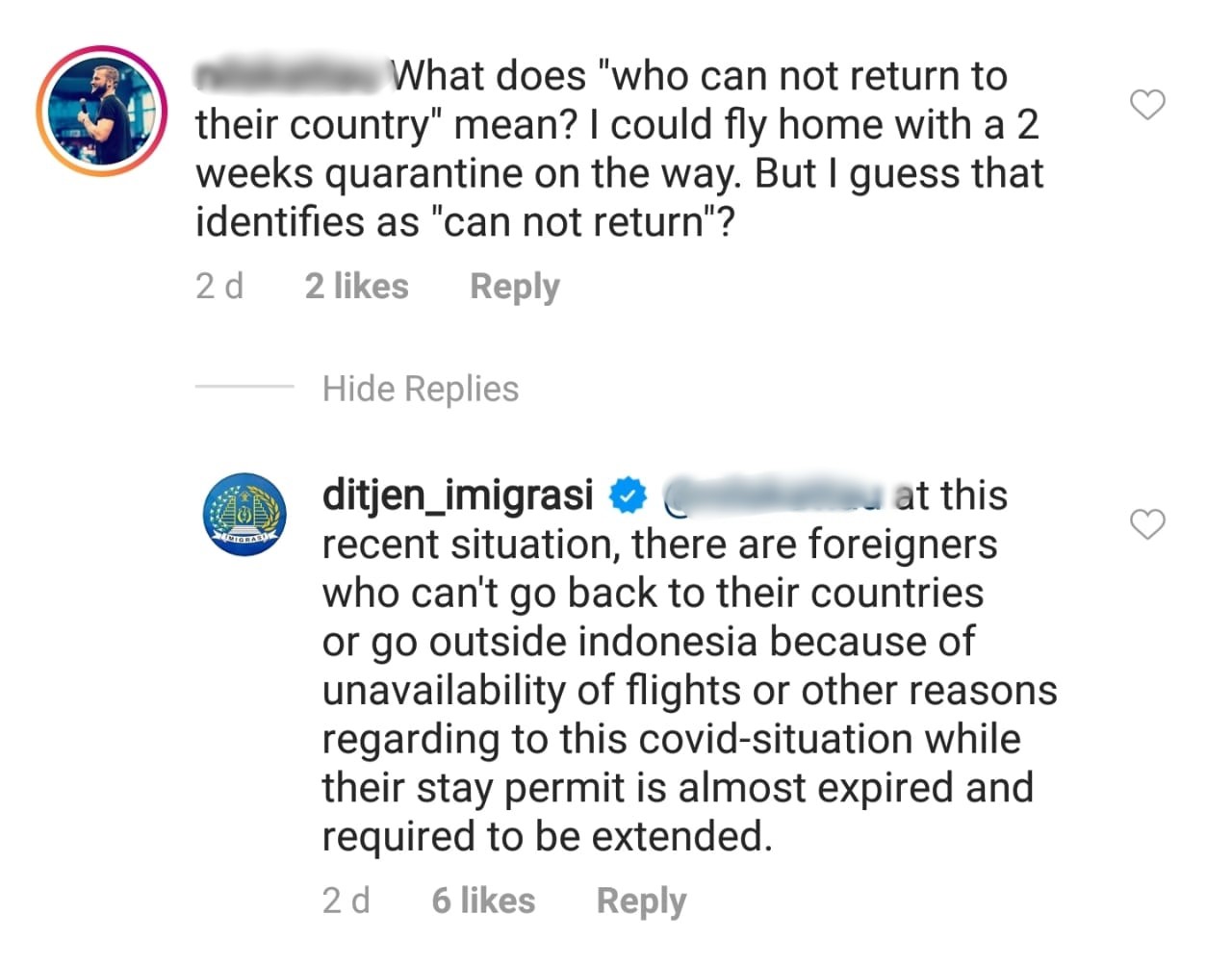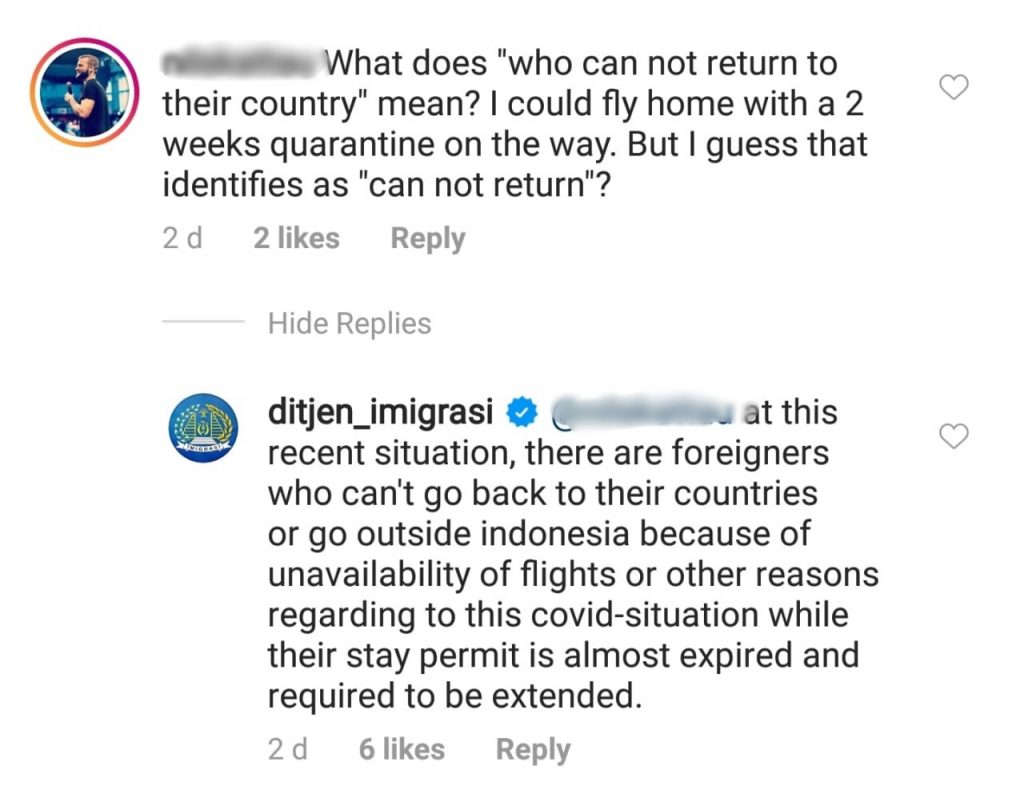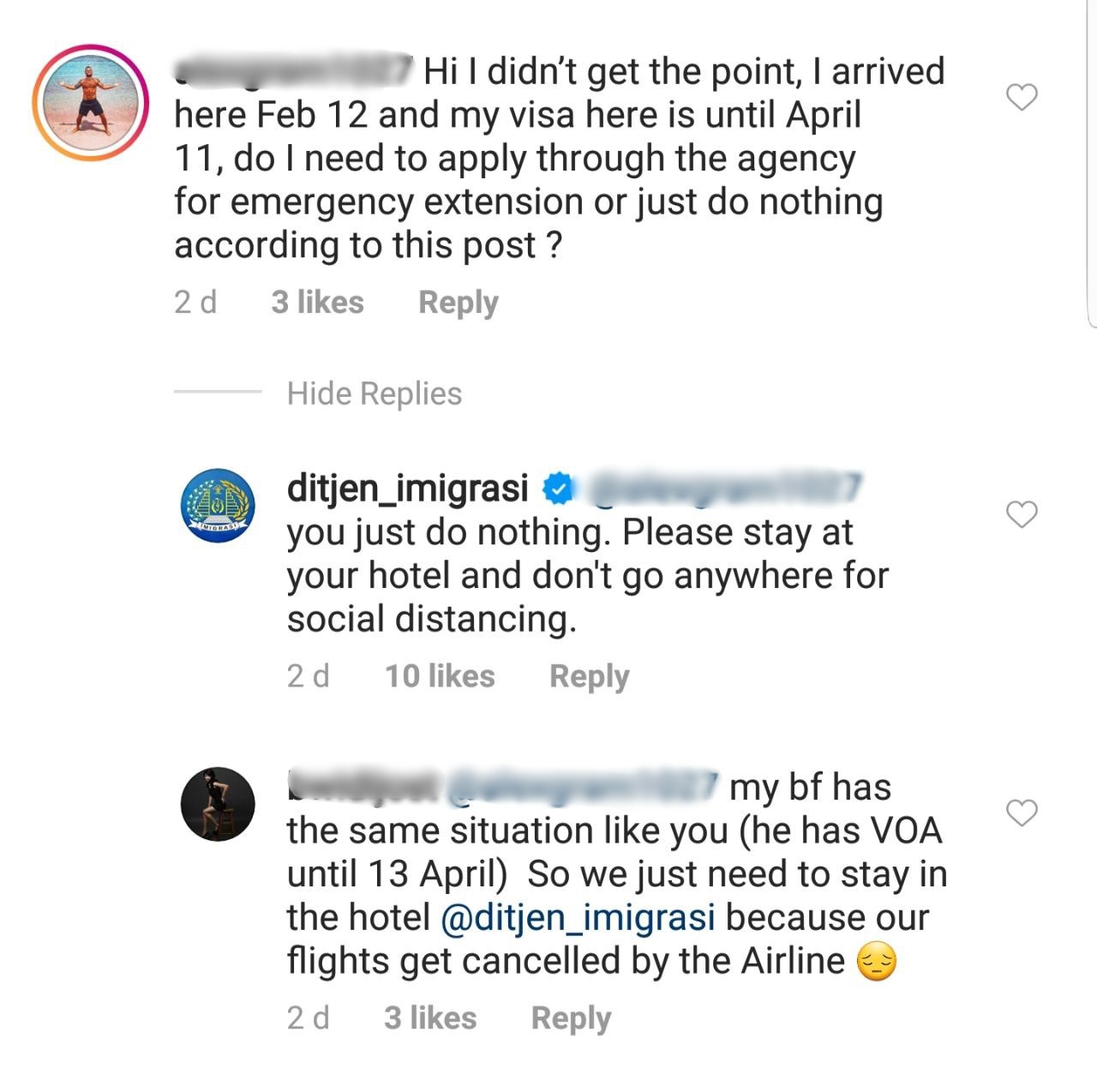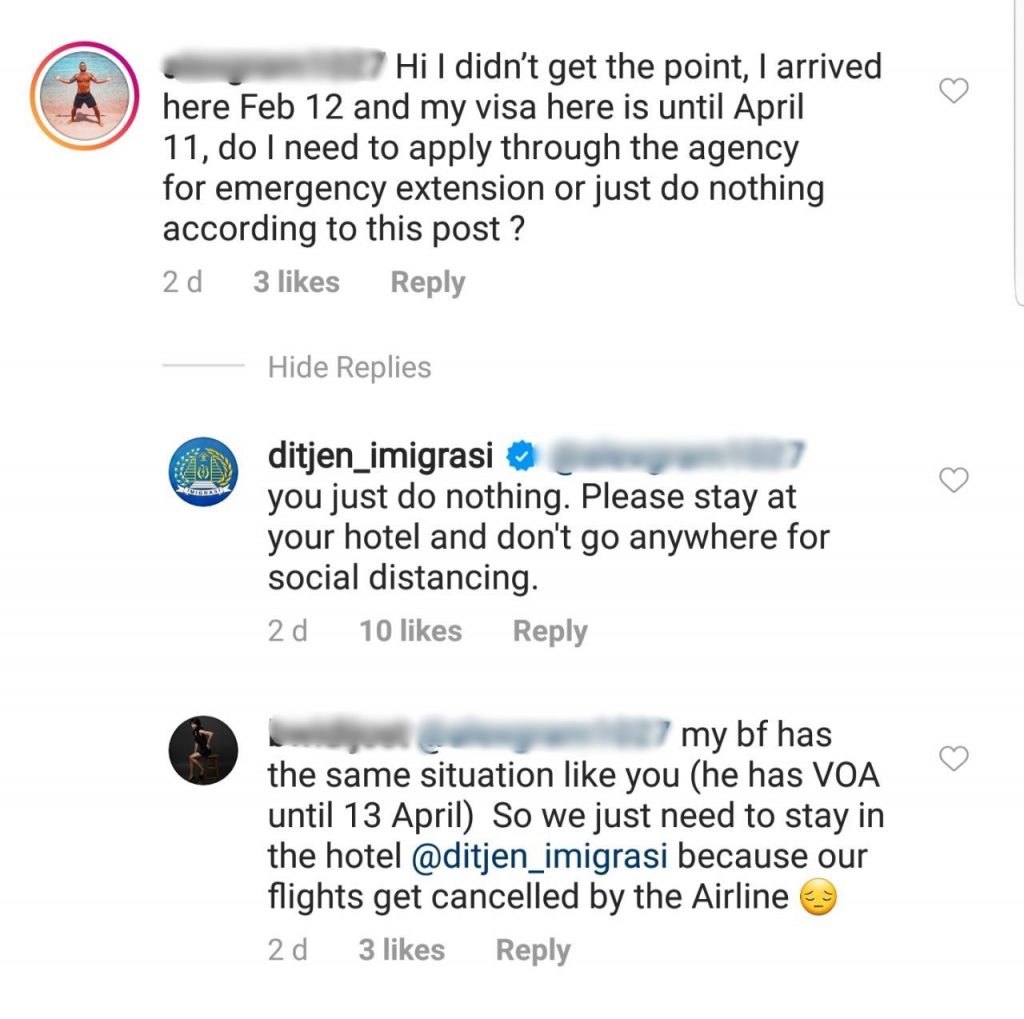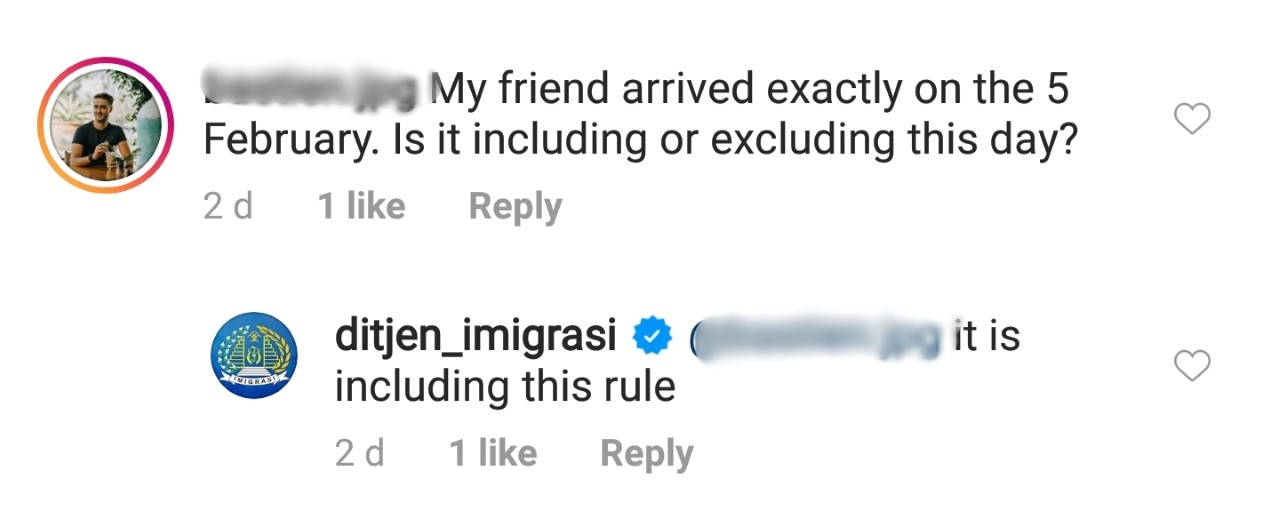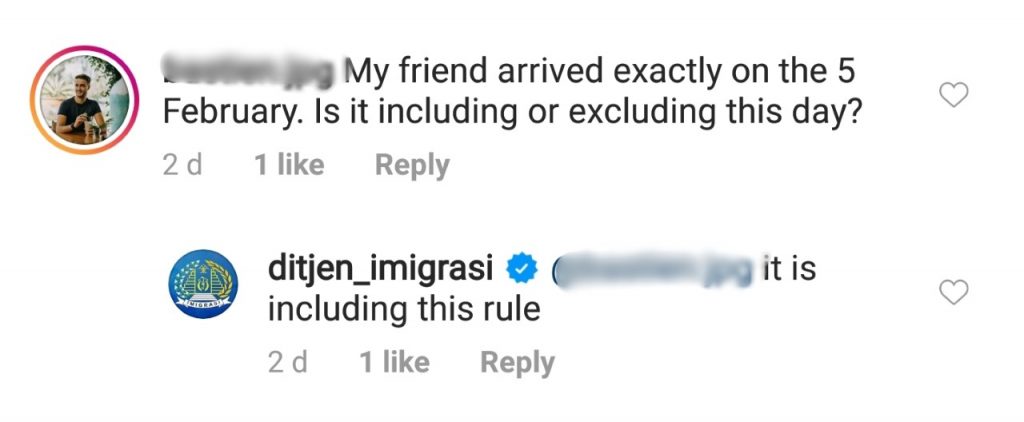 Last updated 15:05 24th March 2020
As the Covid 19 pandemic continues to ravage throughout the world and countries shut boarders it is becoming increasingly difficult to find reliable information about what people can or cannot do. We will do our best to keep reliable updates on this thread, so please keep checking in and share the information.
Unfortunately, the immigration offices are feeding different information and make changes to regulations daily, therefore it is extremely challenging to decipher what the situation is for each nationality.
On 24th March 2020 we visited the immigration authorities in South Jakarta and received the following information:
Automatic Stay Permit Extension
For foreigners who cannot return to their country due to the COVID-19 outbreak.
Applicants do not need to come by the immigration office to apply
There are no fines
Valid only for foreigners who enter Indonesian territory after 5th February 2020
The Emergency Stay Permit is free of charge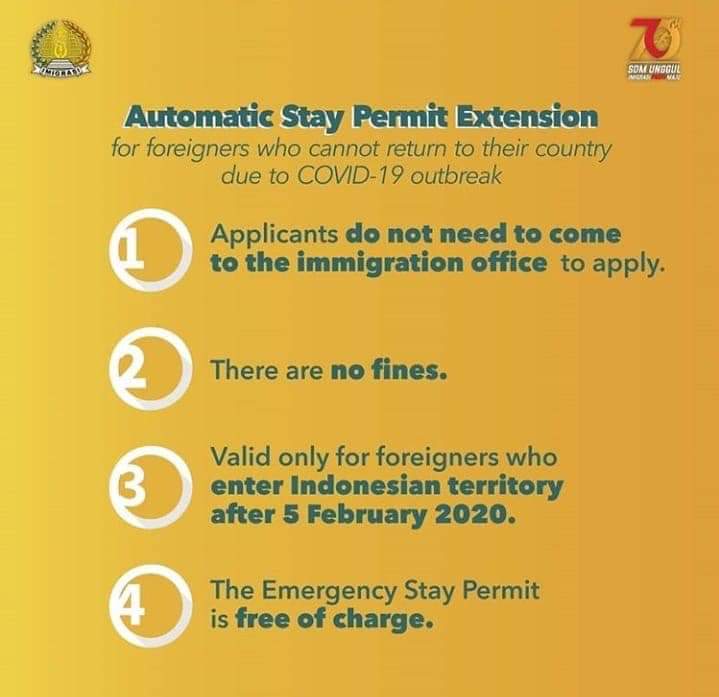 The immigration office in South Jakarta has now confirmed this free automatic stay permit extension is applicable for Visa on Arrival, Single Entry (Social Budaya) & Multiple Entry Business Visa. This information was confirmed to us by the Indonesian Immigration Helpdesk.
In addition, the Immigration office of South Jakarta has advised people to contact this number for up to date information: +62 812 9046 9698. Please note this number is for applicants who are foreigners staying in South Jakarta. They also have advised not to visit the immigration offices and contact them directly via telephone or email.
Overall, at this time, if your visa is close to expiration and you can return home, we would suggest this option.
Emergency Residence Permit
For nationalities whose country is locked down or their flights are cancelled leaving Indonesia and it is not possible to leave the country, you may apply for an emergency permit.
To apply for this emergency permit you will need to provide:
Application letter
Passport
Guarantee letter from local sponsor
Copy of flight cancellation (if applicable)
To apply for an emergency permit, you will need to visit your local immigration office; there is no charge from the government for this service – The emergency permit has a validity of 30 days.
Please note that if there are no prohibitions for you to leave the country, you will not be able to apply for the emergency permit.
Notes About Entering Indonesia
Foreign nationals may still enter Indonesia; however, you must apply for a visa such as single entry/multiple entry visa before entering the country. Please note that you shall not be subjected to quarantine as long as you can provide a health certificate/letter from a relevant health authority that shows you are negative to the Covid 19 virus and are in good health condition. Ensure this document is printed and is dated within a few days of your arrival date to Indonesia.
Additionally, visitors/travellers will be denied entry/transit to or via Indonesia if they have travelled to the following countries in the last 14 days: Iran, Italy, Vatican, Spain, France, Germany, Switzerland, United Kingdom.
Please note that the Visa on arrival, both paid and free is suspended until undefined date for all nationalities.
Stay Permit Renewals
If you have a KITAS of any type, you may still renew it as usual, therefore those with this type of visa do not need to be concerned with the current visa situation.
Applicants applying for Stay permit for collection in another country
If you are in Indonesia already and have applied for a KITAS that needs collection in another country that is on lockdown, you may still change the telex destination; however, you will likely be charged by your visa provider for such changes.
Additionally, as different countries are changing their emergency protocols daily, there is no certainty that the new country will still accept foreigners from entering. We would suggest picking a country that has little or no reported cases of the Covid 19 virus to be on the safe side.
Multiple Entry Visa
If you are using this type of visa and your 60-day validity has almost expired, then we would advise leaving Indonesia to another country that is not on lock down. In addition you can benefit from the free automatic stay permit extension, but please make an inquiry with your local immigration office first.
Single Entry Visa
You may still extend this visa as per usual. If you cannot extend it anymore and cannot leave Indonesia, we would recommend speaking directly to your local Immigration Authority. In addition you can benefit from the free automatic stay permit extension, but please make an inquiry with your local immigration office first.
We shall seek to keep updating this thread with new updates as and when we get them. Please share this thread to help others stay informed.
If you need further advice, please contact us at: info@letsmoveindonesia.com or call our office in Jakarta +62 21 300 297 27.