Working Visa (KITAS) – Who is it for and what are the benefits?
The Working Visa / Working KITAS is intended for foreigners that are employed to work in Indonesia for more than a few months. It is the most comprehensive working permit you can get and allows the user to actively earn income, open bank accounts, pay taxes, get a mobile phone etc.
To obtain a working permit you need to work for a company that is registered within Indonesia. This entity can be either a Foreign Owned Company (PMA), a Representative Office or an Indonesian Owned Company.
The length of your working visa can vary between 6 & 12 months depending on your job title; the validity being approved by Indonesia's Ministry of Manpower. In general, Directors, Commissioners & Senior Managers can obtain a 12-month extendable permit, whereas advisors can only get a 6-month, non-extendable visa.
If you need to know more about different types of legal entities or you do not have a company set up within Indonesia yet, please check out our Company Establishment Page.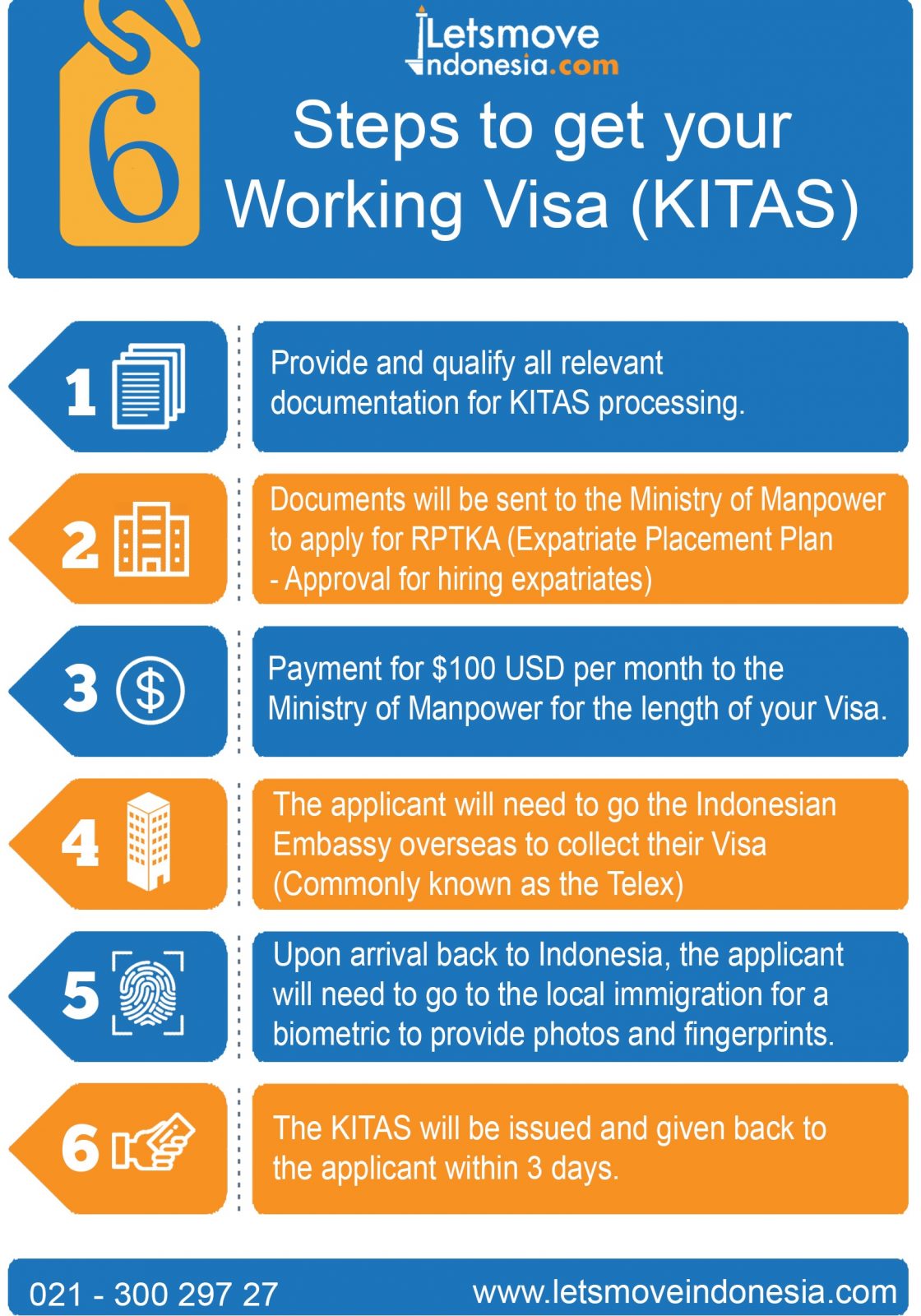 Can I start the Visa process before I enter Indonesia?
Yes, you can. You can apply for you working permit before you enter the country and pick up your work permit from the Indonesian Embassy in your home country. For your permit to be official you will need to visit the Immigration Office in Jakarta for your biometric session.
What job do I need to obtain a 12-month Working KITAS?
A 12-month KITAS is only guaranteed for Directors and Commissioners. For roles in Management this is also possible however, it is at the discrepancy of Immigration. LetsMoveIndonesia can give you guidance on this matter.
For non-management roles, (barring a few exceptions) you many only obtain a 6-month, non-extendable KITAS.
During the process, do I need to visit an Indonesian Embassy to collect my work permit? How long does this take? How much is it and do I need to go to Singapore to obtain it?
During the visa process you will need to go to an Indonesian Embassy outside of Indonesia to pick up your work permit. You can do this in your home country or a different one depending on which is more convenient.
Most people go to Singapore to obtain their permit as it is close to Indonesia, the flights are regular, and it is an easy city to navigate.
When visiting the Indonesian Embassy in any country, you can visit the Embassy yourself and process the work permit or hire an agent to do this on your behalf. If you hire an agent, they can do the process usually within one day, however if you do this yourself, it may take significantly longer.
Procedures, agents' fees and time allowances will vary depending on which country you visit. Since 2019 the regulations have changed and now, rather than paying a processing fee for your Working Visa at the Embassy, there is a fee called PNBP of $150 USD, which is paid in Indonesia before collecting your visa. The benefit of this is that you no longer need to pay a fee when you go to the Indonesian Embassy. If you would like to use an agent to speed up the process, prices will vary depending on local agent.
If you need an agent in Singapore, we can recommend one for you – the price is only $90 Sg.
What is the DPKK Fund and how much is it?
The DPKK Fund is a payment made to the Ministry of Manpower in Indonesia – The fee is to support training of the domestic workforce and is not negotiable. The price is $100 USD per month. The total amount is dependent on the length of your KITAS – 12 months for example is $1200 USD.
I already have a Working KITAS, can I change jobs and keep my KITAS?
Unfortunately, you cannot continue your current KITAS. You will need to obtain an EPO (Exit Permit Only) which will terminate your current working visa and you will then need to start your new visa with your new company.
Can I do more than one job on my Working KITAS?
You may only work in the location or job specification stated on your KITAS.
If I do not wish to extend my Working KITAS, what should I do?
To terminate your KITAS you must apply for an EPO (Exit Permit Only), whereby your work permit will be terminated. The EPO is very quick and generally takes a few days. Once your EPO stamp is issued, you will need to leave the country within 7 days.
If you have already left Indonesia, you will need to apply for a ERP (Exit Re-entry Permit).
Check out the link to find out more about the EPO Process:
Everything you need to know about the EPO Process!
What happens if I overstay my Visa?
If you overstay your visa you may be subjected to daily fines, blacklisting from the country and even deportation. We cannot stress enough the importance of keeping your visa up to date.
In 2019 the penalty for overstaying rose from 300,000 to 1,000,000 IDR per day.
Want to know more about the KITAS Process?
The KITAS Process – How to Avoid Getting Ripped Off!
The investor KITAS – Everything You Need To Know!
Get your single entry business visa and enter Indonesia

Requirements
Applicant Documents
Curriculum Vitae (CV) of the expatriate
Certificate of degree graduated
Expatriate passport with minimum 4 blank pages still available with minimum 18 (eighteen) months validity and scanned copy of identification page and cover
Photograph of the expatriate, size 4 cm x 6 cm: 2 pieces, red background, format .jpeg
Domicile Letter of the expatriate in Indonesia (Surat Keterangan Tempat Tinggal) from the Sub-district (Kantor Kelurahan); or Letter of Domicile from the Building Management or house/apartment rental Agreement Letter – signed by the house/apartment owner
Legality of the company sponsor in Indonesia (as seen in the List of Required Documents of Company Sponsor)
Company Sponsor Documents
Company's deed of establishment and its amendments (if any)
Approval from the Ministry of Law and Human Rights (MoLHR) of company sponsor / SK Kehakiman Pendirian Perusahaan dan Perubahannya (if any)
Tax Registration Number (NPWP) of company sponsor
Certificate of Domicile (SKDU) of company sponsor
Business License (SIUP) / Principle License (Izin Prinsip/IP) / Permanent Business License (Izin Usaha Tetap/IUT) of sponsor company of BKPM
Certificate Company Registration (TDP) of company sponsor
ID Card (KTP) and Family Register (KK) of the Indonesian Director of company sponsor as Guarantor, or passport of foreign Director.
Blank papers with the company's letterhead; (for application letters)
Mandatory Manpower Report (Wajib Lapor Keberadaan/WLK) of company sponsor
Employment contract between company sponsor and the expatriate
ID card/ KTP of the Indonesian counterpart
Appointment letter between company and the Indonesian counterpart
Company's bank account information or statement – balance minimum USD 1,500