In this article we explain what the Visa on Arrival (VOA) is, which nationalities can apply, which nationalities can extend, as well as answer your most common questions about this visa.
What is a Visa on Arrival?
The Visa on Arrival (VOA) is a visa which allows foreigners the right to visit Indonesia for 30 days without the need to gain a visa from an Indonesian Embassy abroad.
What is the purpose of a VOA?
This 30-day free visa is intended for people who are entering Indonesia with the purpose of:
Leisure and tourism.
Family.
Social.
Art and Cultural.
Government visits.
Giving a lecture or attend a seminar.
Attend a meeting held by Head office or Representative office in Indonesia.
While in transit on the way to another country.
When does the 30-day calculation start?
The Visa on Arrival is counted per day, not per night, which means your first and last day are included in the 30 days calculation. Please be aware that even if you arrive just before midnight, that day will be counted as a day in Indonesia.
Please note that this is a single entry visa. Every time you enter and exit the country, the visa will start again and you will get another 30 days visa.
What requirements do I need to enter Indonesia?
No matter which country you are from, you will be required to provide:
Your passport, which must be valid for at least 6 months from the day you enter Indonesia
One blank page in your passport
Proof of return or onwards flights out of Indonesia
Which nationalities can visit Indonesia using a Visa on Arrival?
Currently 169 nationalities may enter Indonesia using a non-extendable Visa on Arrival, which includes:
Which countries are exempt from entering Indonesia without a visa on arrivalUnfortunately, not all nationalities may enter Indonesia, these countries are:
You can still apply for a visa, however it can be quite expensive and time consuming – Speak to the LetsMoveIndonesia team and we can advise your options.
Can all nationalities extend their Visa on Arrival?
Currently there are 67 nationalities that can extend their Visa on Arrival for an additional 30 days. These countries are:
When you arrive in Indonesia you will notice that there are 2 options, a free VOA and a paid one.
If you are from a country that allows extensions or are under the impression you may want to stay longer than 30 days, then pick the paid option. This option is $37 USD, but does give you flexibility if you do decide you would like to stay longer.
If my nationality does not have the ability to extend, but I would like to spend more time in Indonesia, what should I do?
There are a few options; many people will often take a cheap flight out of the country to a neighbouring one and restart their VOA when they arrive back in Indonesia. However, if you would prefer not to do this every month, you may apply for a Single Entry Visa, which gives the holder the option to hold a 6 month visa.
To find out more about the Single Entry Visa, Click Here
Are there any charges if I overstay my 30 days?
As of 2019, the overstay fee rocketed from 300,000 IDR to 1 Million IDR per day. With that in mind it is extremely important that you keep an eye on your entry and exit dates so you do not get stung with penalties at the airport.
Please note that the maximum amount of time you can overstay is 60 days, if you stay longer than that, the maximum punishment is 5 years imprisonment or a 500,000,000 IDR penalty.
Can I process the Visa on Arrival Extension myself?
The simple answer is yes. If you have selected the paid Visa on Arrival ($35 USD) when you entered Indonesia, you can extend it one time, for an additional 30 days.
You will need to start extending your visa 7 working days prior to the expiration date, which involves going to the immigration office in person. Please note that when attending the visa office, you must dress formally as to respect the culture. It is not uncommon for the immigration office to deny entrance based on clothing (or lack thereof).
Please note that you will have to spend an additional 500,000 to extend it.
What are the benefits of using LetsMoveIndonesia to extend my VOA?
Trips to the immigration office, can be time consuming and you may be required to do this over 3 trips. 1. To fill in forms/drop off passport (Please remember to bring a pen with black ink) 2. To pay for the visa, take photos and provide fingerprints 3. To pick up the passport.
To make your life simpler LetsMoveIndonesia can process this for you, eliminating the need to go to the Visa office 3 times. By using our service, you will only be required to go one time for photos and finger prints (biometrics) where you will be met by one of our colleagues who will be available on hand to help speed up the process and assist with any language barriers you may have.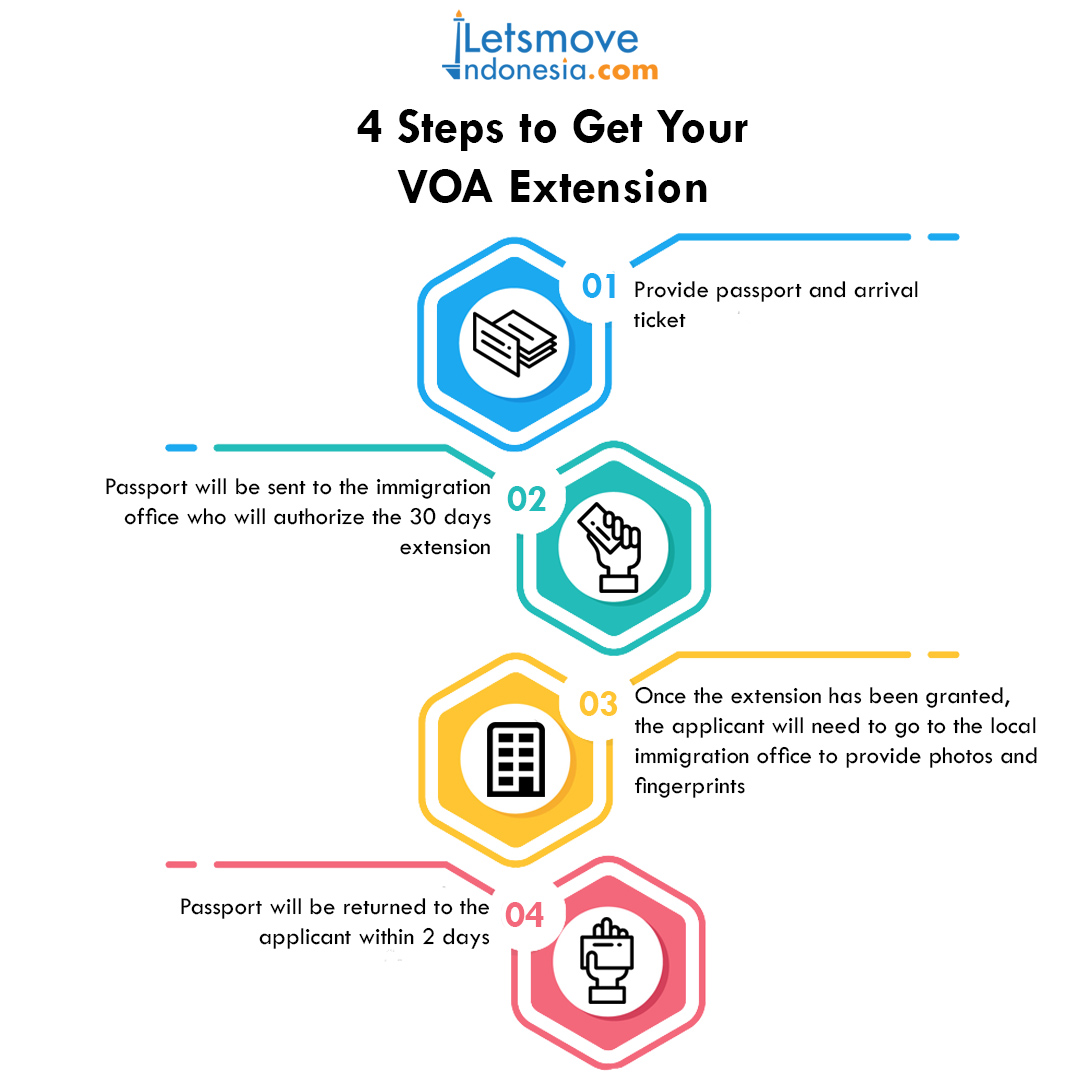 What requirements do you need to extend your VOA?
Original passport
Entry ticket of first arrival
If you would like assistance to process your Visa on Arrival Extension then please feel free to contact LetsMoveIndonesia by: T: +62 21 300 297 27 E: info@letsmoveindonesia.com Fill in the contact form below or come and visit us in our office in Bellagio Mall, Mega Kuningan, Jakarta – The only walk in Visa Agency in Jakarta!
Want to know more about Visas & Company Establishment within Indonesia? Then check out our useful guides below by clicking the links:
The KITAS Process – How to avoid getting ripped off!
The KITAS Process – Everything you need to know before applying for yours!
How to set up a business in Indonesia
Registering a Trademark in Indonesia – How to protect your business