On the 13th October an announcement was made by The Minister of Law and Human Rights of the Republic of Indonesia Number M.HH-03.GR.01.05 Year 2021 advising Single Entry Visas (B211A) would be available again of for shore applications.
Please note that the free visit visa, commonly known as the visa on arrival is still not available, so if you are planning on visiting Indonesia for tourist activities, then the B211A visa is the one for you!
Additionally, as of 15th October, despite the announcement being made, Indonesian Immigration still has not made it possible to apply for this visa using the Immigration Application Portal. We do not know why authorities released the news this visa is available without applying it to their application portal. Additionally, we do not know right now when we will be able to submit applications – hopefully soon!
How the Single Entry Visa (B211A) visa works
The visa works much in the same way as the Single Entry Business Visa, in the fact when you arrive in Indonesia you are permitted a 60 day visit with the option to extend the visa again up to 4 times, each time providing a further 30 days. In total the maximum validity of the Single Entry Visa is 6 months.
This visa requires a sponsor, whether that be a company or an individual. We will list the requirements further below for both entities.
Please note, that if you chose to extend your visa after the initial 60 days, you sponsor must assist you.
Activities permitted with the Single Entry Visa (B211A):
Tourism
Visit family
Social activities
Arts & culture
Duties of government
Non commercial sports
Comparative studies, short courses and short training
Conduct business talks
Make purchase of goods
Give lectures and attend seminars
Participate in international exhibitions
Participate in meetings held with the head office or representative office
Continue to travel on to other countries
Join transportation means in Indonesia
Filming
Visits for the development of the marina industry (yachters)
Aid workers, medical and food support.
Important Notes & Common Questions
Can I work using this visa?
This visa does not allow you to work in Indonesia or earn any income. Failure to do so, could result in fines and deportation.
Using this visa, can I enter Jakarta?
Presently, this visa type is only allowed to enter 2 official international ports: Bali & Riau. Presently it would appear you cannot fly into Jakarta or Manado just yet.
Which nationalities can apply for this visa?
Not all nationalities can enter using this visa. On Friday 15th October, yet another announcement was made by SATGAS (Satuan Tugas Penanganan) advising of a list which includes 19 Countries that can apply for the tourist visa. Below is the official announcement and the list of countries:
sk-ka-satgas-nomor-15-2021-tentang-19-negara-asing-warga-neg
1. Saudi Arabia 2. United Arab Emirate 3. New Zealand 4. Kuwait 5. Bahrain 6. Qatar 7. China 8. India 9. Japan 10. South Korea 11. Liechtenstein 12. Italy 13. France 14. Portugal 15. Spain 16. Sweden 17. Poland 18. Hungary 19. Norway
Can I fly into any airport in Indonesia using this visa? 
From the recent circular, they advised tourists using this visa could only fly into 2 international airports, Bali & Riau. Will this change? We assume so, but it depends on the authorities.
Is Bali or Riau actually accepting flights yet?
The airports do not seem to actually be officially open/receiving international flights yet. We do not know when they will actually receive flights.
Do I need to quarantine?
You are subject to quarantine yes. On the 13th October another announcement was made reducing the number of quarantine days from 8 – 5. This is applicable to all nationalities, check out our article on this below:
Indonesia reduces quarantine to 5 days effective immediately!
Where can I quarantine?
Once again, no official list has been released for Bali or Riau although Bali airport did make a list recently; however, we cannot confirm if this is approved by the government and still credible. When the government actually releases full information we will update this article.
Can I apply now?
As of Friday 15th October there is still no way to apply for this visa. Unfortunately, Indonesian authorities have a habit of releasing news and not implementing the actual protocols. When will this be ready? We do not know, lets hope soon.
I want to apply now and don't want to wait/my nationality isn't on the approved list, what can I do?
Apply for a Single Entry Business Visa. LetsMoveIndonesia was the first agency to sell this product at a reasonable price in Indonesia and since then has successfully assisted thousands of people obtain a visa to visit Indonesia.

What do I do if I do not have an individual sponsor?
If you do not have a sponsor a company can also sponsor this visa type.
How can I apply for one?
You can try to process the visa yourself, but it is quite challenging. Most people use LetsMoveIndonesia to assist them.
Requirements
Requirements for the Single Entry Visa (Sponsored by yourself/Indonesian National)
Requirements for this visa have not been released yet as the application portal is not active. Additionally, we do not know yet whether at this time the visa can be sponsored by an individual.
Once we have further information, we will update this article.
Requirements for the Single Entry Visa (Sponsored by LetsMoveIndonesia)
Requirements for this visa have not been released yet as the application portal is not active. Additionally, we do not know yet whether at this time the visa can be sponsored by a business.
Once we have further information, we will update this article.
Why should I use LetsMoveIndonesia to assist me?
LetsMoveIndonesia is regularly referenced as Indonesia's Most Trusted Agency from expatriate news outlets due to our transparent and ethical values.
We have 3 offices throughout Indonesia in Kuningan Jakarta, Seminyak Bali & Canggu Bali.
We are the most competitively priced national agency and the only one to advertise our prices openly – as we like to say, we are not afraid to advertise our prices, why would you trust and agency that is?
We are a legitimate agency operating since 2016, most agencies presently are pop up agencies with little to no experience. Don't get scammed by dodgy agencies; check out this article: Watch out for visa agent scams in Jakarta & Bali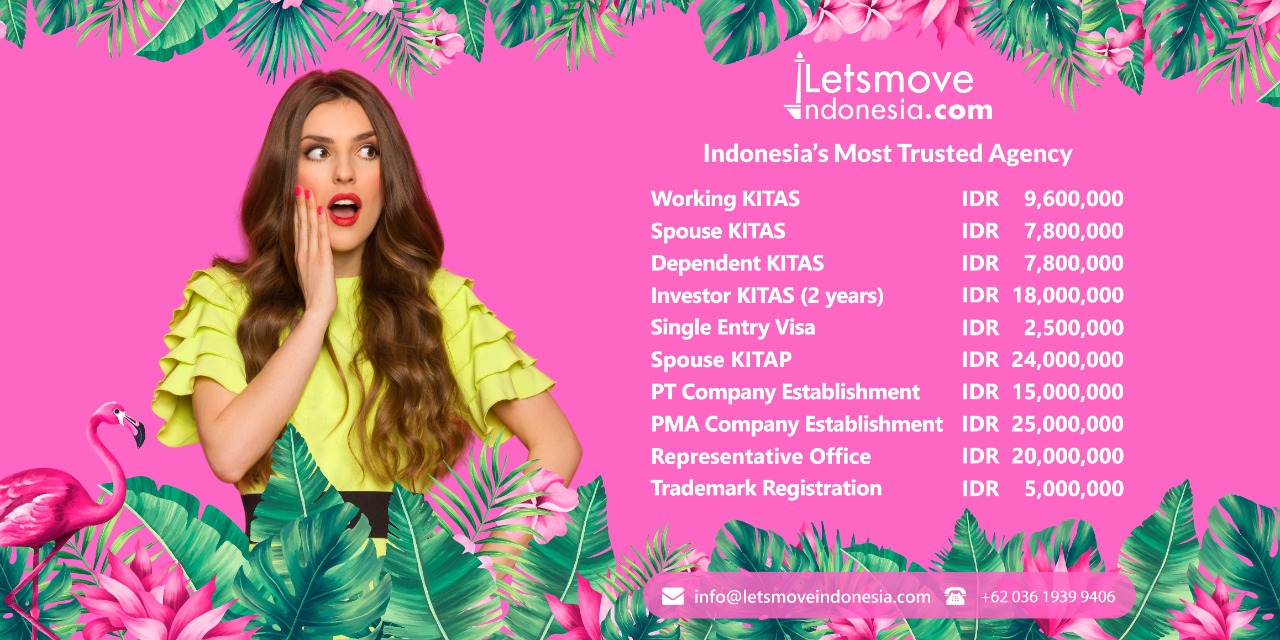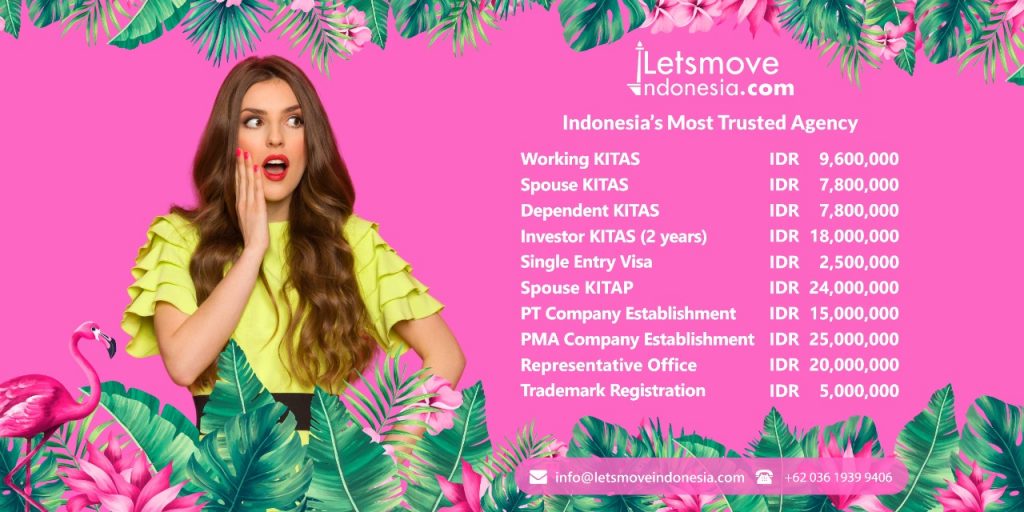 Have a question, need to know more or looking to get your visa from Indonesia's Most Trusted Agency? Then contact one of our amazing consultants here: WA: +62 811 1286 948 T: +62 21 300 297 27 (Jakarta) T: +62 361 934 8343 (Seminyak Bali) T: +62 361 939 9406 (Canggu Bali) E: info@letsmoveindonesia.com
Found this article interesting? Then check out these useful guides about Visa & Company Registration processes in Indonesia!
Offshore Visas To Enter Indonesia Are Available Again!
Need a Single Entry Business Visa to visit Bali or Jakarta? Read this first!
LetsMoveIndonesia – Visa & Company Setup services in Bali
Welcome to the LetsMoveIndonesia Visa Clinic in Bali!
Setup a business in Bali with LetsMoveIndonesia and save money!
The KITAS Process – Everything you need to know before applying for yours!
The investor KITAS – Everything You Need To Know!
Company Establishment – Now available in only 2 weeks!
Company Establishment in Indonesia – Your questions answered