If you have been looking for a reliable agency to process your Single Entry Business Visa in Indonesia, you may have found there is so much choice from agencies all around the country. Each offering different prices and plus points, but are all agents alike?
With hundreds of pop-up agencies arising every week, most with no fixed addresses, landlines, reliable websites or long-lasting social media platforms, it can be confusing for people looking for a trustworthy agent.
Every week we hear from foreigners regarding suspicious agents taking money and disappearing or offering fake visas. The only way to be sure your agent is legit is to ensure they are a long-standing agency, have fixed addresses, can supply landline numbers and have legitimate followers (not paid bots). Agencies with names including phrases like E-Visa are relatively new agencies as the E-Visa was only introduced at the end of 2020. Whilst many of these pop-up agencies claim to have 15 or 20 years experience, this simply isn't true, they are providing misinformation to gain your trust.
As a reputable agency, many people ask us the same questions when comparing us with other agents. In this article we answer some of the more serious questions and common misunderstandings people make when choosing their Single Entry Business Visa partner.

Why does LetsMoveIndonesia say it takes up to 14 working days to process the visa when other agencies say 3-7 days?
All visas are processed using an online submission system. Once the agent submits the documents, it is a waiting game. If the process is running smoothly (no backlogs/holidays) then the visa can be done within 7 days; however, for the most part it takes longer.
Many agents make claims they can guarantee the visa within 7 days, but this simply isn't true.
Last week, a notorious Bali agency had to issue a public apology for false advertising, claiming they could guarantee the visa within 7 days – We prefer to be honest, than provide click bait advertising and future disappointment.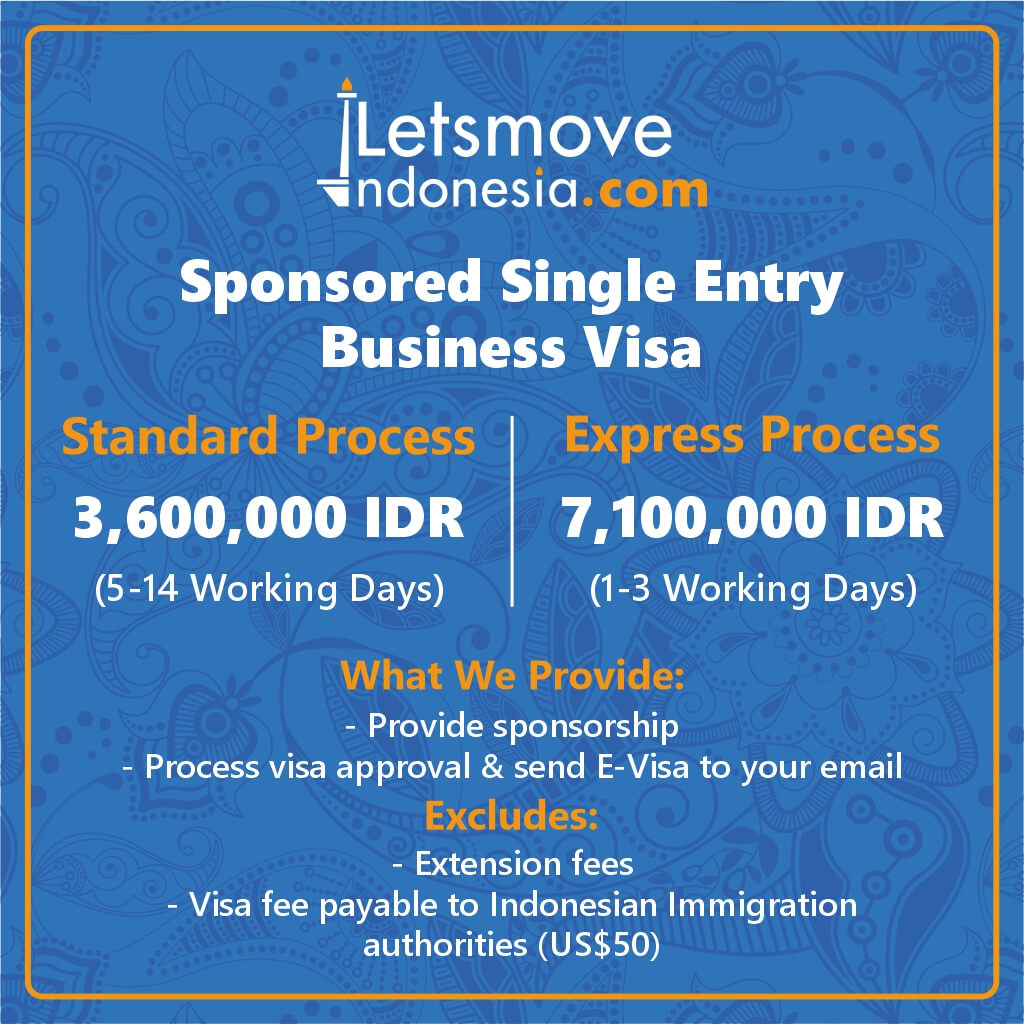 When applying for a Single Entry Business Visa why does LetsMoveIndonesia ask for Negative Covid Tests or when other agents don't?
Simply put, this is a legal requirement to submit your application.
If you provide no proof, your agent is faking documents illegally without your permission. If questioned by Indonesian Immigration authorities regarding these matters, you may risk being deported or receive heavy fines. Please note it is illegal to fake documents submitted to immigration authorities.
Why does LetsMoveIndonesia charge the Visa Fee separately and not included in the price?
When we started the Single Entry Service, the E-Visa was brand new. Prior to this, foreigners needed to visit an Indonesian Embassy outside of Indonesia to collect the visa and pay the visa fee. This visa fee is payable to the Indonesian Immigration authorities; so, it is outside of our service fee.
Please note we are not adding hidden charges, there is a service fee and a visa fee (800,000 IDR).
Which agency is the best agency for processing Single Entry Business Visas?
LetsMoveIndonesia was the first agency in the country to offer the Single-Entry Business Visa at our pre Covid price. Whilst almost all agents across the country have since copied us or attempted to slightly undercut us, without our initiative, foreigners would still be getting ripped off.
With our trendsetting mentality and dedication to improve the market, paired with ethical and honest values, it is no wonder why LetsMoveIndonesia is the most popular agency in Indonesia.
The question no longer is which agent to use, it has quickly become – why would you use anyone else?
Why use LetsMoveIndonesia?
We are a national agency with offices in Jakarta & Bali
Unlike the plethora of pop-up agents recently, we have been assisting foreigners since 2016, processing tens of thousands of visas during this time. We are Tried, Tested and Trusted.
Our founder is a foreigner from UK and has passionately dedicated his life to improving expatriate services. LetsMoveIndonesia was the first agency in the country to advertise prices openly – revolutionizing what was a corrupt and unethical market. We are the trendsetters of expatriate services.
We are Indonesia's Most Trusted Agency, as referenced from numerous Expatriate magazines.
Get your free consultation with the Trendsetters of Expatriates Services by contacting us at:
T: +62 21 300 297 27 (Jakarta), T: +62 361 934 8343 (Bali), WA: +62 812 9260 0590, E: Info@letsmoveindonesia.com or follow our social media platforms to stay updated on all things visa related!
Found this article interesting? Then check out these useful guides about Visa processes in Indonesia!
LetsMoveIndonesia – Visa & Company Setup services in Bali
Get your Single Entry Business Visa and enter Indonesia
Setup a business in Bali with LetsMoveIndonesia and save money!
The KITAS Process – Everything you need to know before applying for yours!
The investor KITAS – Everything You Need To Know!