Recently at LetsMoveIndonesia we have had the displeasure of hearing about people getting scammed by untrustworthy agencies and seen multiple agencies (even highly regarded ones) offering dodgy services which can only be derived from a desperate need to make money.
Additionally, there have been hundreds of pop-up agencies opening up every week, most making fake claims to gain your trust, when really, exposing you to serious risk.
In this article, we will reveal the scams, advise why you should be very careful with which visa agency you trust and point out some hints and tips to ensure whichever visa agent you use, you don't get ripped off.
The Scams
Get your quarantine package from us
Visa agencies have no affiliations with hotels. If agents are selling this service, they are marking up the price. If you book a quarantine hotel, do so directly with the hotel.
We can process your Single Entry Business Visa in only 7 days!
All agencies use the same online portal to apply for visas. Do not be fooled by agencies saying the processing time is less than 7 days, it may take longer due to the amount of applications. Many inexperienced agencies do not know this, so will prophesies these dates, but it is you who will be left feeling misled and frustrated. Please note, in normal times, this number is achievable, just not right now.
Visa extensions prices have gone up, so you need to pay more
Visa extension prices have not increased, there is no reason why your agent would ask for more money with the exception being; if you were late to process your visa extension. If your agent increases the price, get another agent.
Selling visas cheap and supplying fake E-Visas
We've heard from a number of people who have used dishonest pop-up agencies and when receiving their E-Visa found out it is a doctored document. A reliable Visa agency will be able to provide links to the official Indonesian Immigration website, so you can see for yourself the visa authenticity.

Why the influx in scams?
Many agencies do not have any consistent cash flow because they do not have a solid customer base, so are desperate for you to part with your hard-earned money. They simply do not care whether you are happy with the service, as long as they get paid.
Others see this as an opportunity to make some quick cash and exploit the pandemic situation. No history, pedigree or ethical values, just a desire to make some money at your expense.
At present, tourist visas are not allowed, meaning all foreigners need some sort of visa to enter the country, with this in mind, many "agents" are out there to capitalize on the circumstance. Never has there been a more important time to use a trustworthy agency.
Watch out for dodgy pop-up agencies
Over the years, visa agencies in Indonesia have been relatively stable, but since the start of the pandemic, there has been a huge increase in agencies due to a number or reasons, such as unemployment (particularly in the hospitality sector), as well as people seeing this pandemic as a quick way to make cash. There are a handful of legitimate agencies in Jakarta & Bali that have been professionally handling customers for years, the pop-up agencies on the other hand, have been around for months.
The problem with using a pop-up agency are:
As statistics prove, 9/10 businesses will fail. When they fail, your sponsorship disappears also, leaving you exposed.
When these pop-up agents quit and go back to their normal jobs, your personal documents will not be taken care of and you may lose original documentation.
You are more likely to be scammed. These new agencies have no idea what they are doing, many of them advertising products and services that are not even available at this time. Most don't have actual addresses or contact details, meaning if there is a problem, you have no chance of contacting them or worst-case scenario, getting your passport or money back.
As the expression goes, buy cheap, buy twice. Don't be fooled by extremely cheap prices, it may come back to haunt you.
How to avoid using a pop-up agency
Many of these dodgy pop-up agencies make fictitious claims to fool you into believing they are legitimate, here are the things you need to look out for to ensure you don't get scammed:
Company name
If the company name has E-Visa in it, it is not a long-standing company. The E-Visa was only introduced in October 2020, yet many of these agencies claim to have 10 or 12 years experience.

Check Google
Use the Google search function to find an agency, popular & reliable ones will appear. Try search terms such as 'Visa agency Indonesia' or a specific visa, such as 'Spouse KITAS'. If Google doesn't recommend them, then neither should you.
Does the agency have a Google panel? No Google panel, means no legitimate business address.
Don't just click Google ads, look for genuine search results
Check the agents social media, especially Instagram!
Did all their social media start in the last year? Then don't use them.
Many agencies buy followers to look authentic (even some of the famous ones), if the agency has thousands of followers, but only 2 or 3 likes, it means they are paid followers and the agency doesn't have any real customers.
Check their website
Many agencies make bold claims with words such as – "We've helped 10,000 happy people" or "We have been operating since 2010", but these are just lies to gain your trust. Check the website and look out for the following:
Is it full of spelling mistakes and poor grammar? If so, don't use them. Visa applications are quite precise, if they cannot spell, imagine what will happen to your application.
Are there any blogs or articles dated back beyond the last year? If not, then they have no history.
Ask yourself the questions, is the website informative and professional? Is it just a landing page? Does it really look legitimate? If you are questioning any of those questions, find another agency.
Check a websites longevity by using websites such as Who.is.
Make sure they have a landline and real offices
No telephone landline means no fixed office address.
The Jakarta landline begins with 21, Bali begins with 361. If the number is 08, it is a mobile number.
Additionally, some agencies don't put an address on their website because they don't have one. Others claim to have multiple offices, but do not. Some are making claims they will open offices in new locations, but they are not true. Check their website/social media, look for pictures of their offices and staff.
Don't be fooled by taglines
LetsMoveIndonesia's tagline is Indonesia's Most Trusted Agency, not because we made it up, but because of our hard work and dedication to improve expatriate services. We were the first agency in the country to truly offer transparent and ethical service. We did not create our tagline, it was written by expatriate magazines, such as Indonesia Expat and WhatsNewIndonesia.
Some of the fake taglines include: "Bali's Trusted Service" (by who?), "voted Bali's Number 1 Agency" (by who?), "The Trusted Service" (How can you be trusted if you have not processed any visas), "The Number 1 Agency in the Country" (According to who?).
Research the agency, don't be fooled by made up taglines.
How to find a trustworthy agency
Use Google and look for top ranking agencies.
Ask friends who they used previously and would they recommend their agent.
Check the largest visa Facebook group in Indonesia and see who people recommend: Visa & Law Indonesia.
Check the agencies website and social media. Does it look professional? Do their social media posts have customer interactivity?
Don't just select the cheapest price you see. An "agent" that works from home, with no website, office, staff, or overheads may offer a cheap price, but this is not a legitimate business. Additionally, it could well be just clickbait and they offer a different price in reality – Many of the famous agencies also do this unfortunately.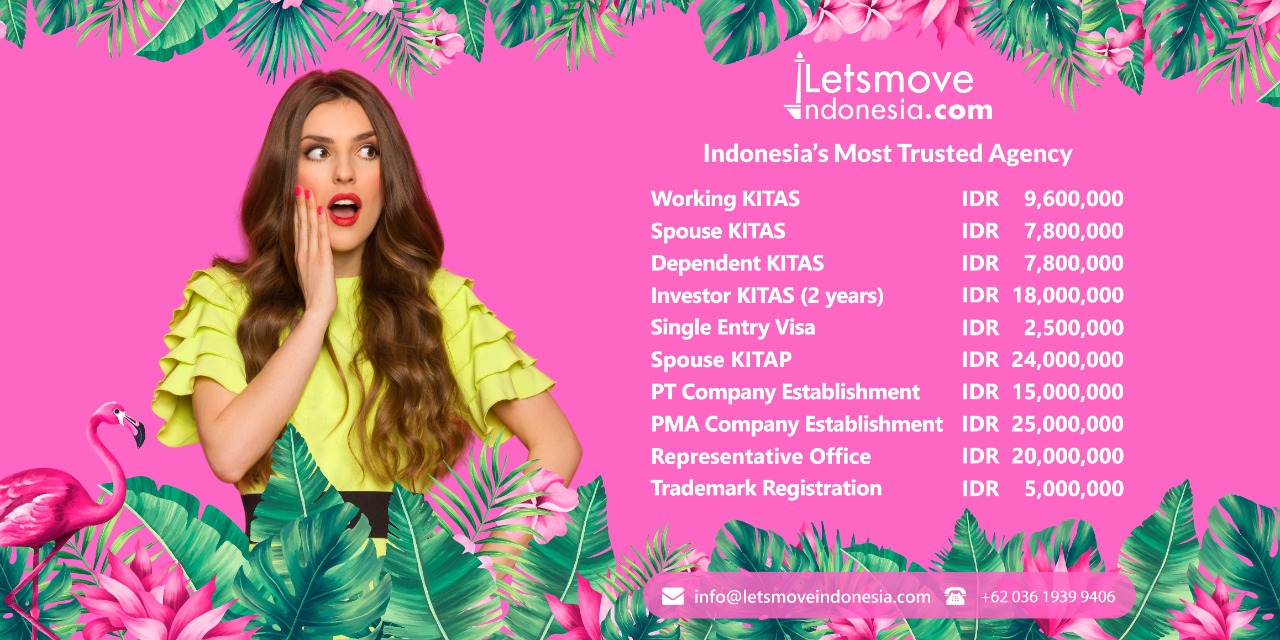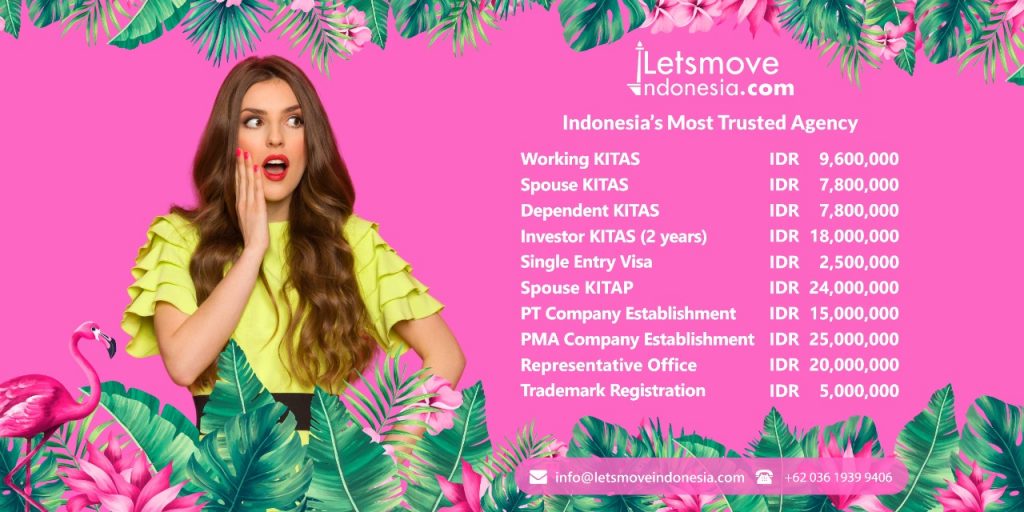 Why you should work with LetsMoveIndonesia
We were the first agency in Indonesia to openly advertise our prices transparently. We don't believe in charging customers different prices based on your nationality, appearance, skin colour, how rich we perceive you to be or our sales targets – we believe in equality and transparency.
We were the first agency in Indonesia to offer Single Entry Business Visa at Pre-Covid prices. The prices you see from every agency came from our initiative. Prior to our price of 3,600,000 IDR, all other agencies were charging 10-20,000,000 IDR! We are responsible for the low prices available today.
We are the trendsetters of our industry. What ever we do, the others follow. Whether it is copying our taglines, copying our office locations, copying our social media posts, copying our website content, copying our promos, copying our pricing, if LetsMoveIndonesia does it, the others will shortly follow.
We have an amazing team of over 25 professionals, boasting decades of experience.
We have genuinely assisted thousands of people with their Visa, Legal and Tax requirements. We are Trusted, Tried and Tested.
We have 3 stunning offices in Jakarta and Bali, based in strategic locations.
The real question is no longer which agency to use, but why would you use anyone else.
A final note
If you choose not to use LetsMoveIndonesia, please ensure you use a well-established agency, even if they do not share the same ethical values as we do. Want to use the only agency that has been making positive changes in expatriate services since 2016? Then work with LetsMoveIndonesia.
Come meet our amazing team in any of our offices: Bellagio Mall, Mega Kuningan Jakarta, The Visa Centre, 105 Sunset Road, Seminyak, Bali or our newest office, The Visa Clinic, Berawa Junction, Pantai Berawa, Canggu, Bali or WA: 62 811 1286 948 T: +62 21 300 297 27 (Jakarta) T: +62 361 934 8343 (Seminyak) T: +62 361 939 9406 (Canggu) E: info@letsmoveindonesia.com
Found this article interesting? Then check out these useful guides about Visa & Company Registration processes in Indonesia!
Need a Single Entry Business Visa to visit Bali or Jakarta? Read this first!
LetsMoveIndonesia – Visa & Company Setup services in Bali
Setup a business in Bali with LetsMoveIndonesia and save money!
The KITAS Process – Everything you need to know before applying for yours!
The investor KITAS – Everything You Need To Know!
Company Establishment – Now available in only 2 weeks!
Company Establishment in Indonesia – Your questions answered