***NEWEST UPDATE 4th October 2021***
Immigration Authorities change requirements for Single Entry Business Visa Applications
The last 2 weeks were confusing and frustrating for everyone connected to visas, in particular those that were looking to apply for a Single Entry Business Visa.
On Friday 24th September whilst uploading client applications, we were met with new requirements including a "proof of free from infectious diseases letter" & "proof of good conduct from the applicants origin".
Immigration made no announcement, yet added these requirements. Upon asking immigration authorities, they advised these were now mandatory requirements.
On 28th September they posted on their website that these requirements were no longer needed, however, the online application system still required them. When asking immigration officials via social media portals the answers remained conflicting.
On Friday 1st October another announcement was made from the Official Indonesian Immigration portal that the requirements were not required, but once again, the online registration system still required the new documents.
Finally on Monday 4th October the additional requirements were changed again, this time the certificate of good conduct letter remains, however, the guarantor can now make a letter advising the foreigner has never committed a crime and the free from infectious diseases can be replaced with full vaccination evidence.
The current requirements for Offshore & Onshore Single Entry Business Visas can be seen below: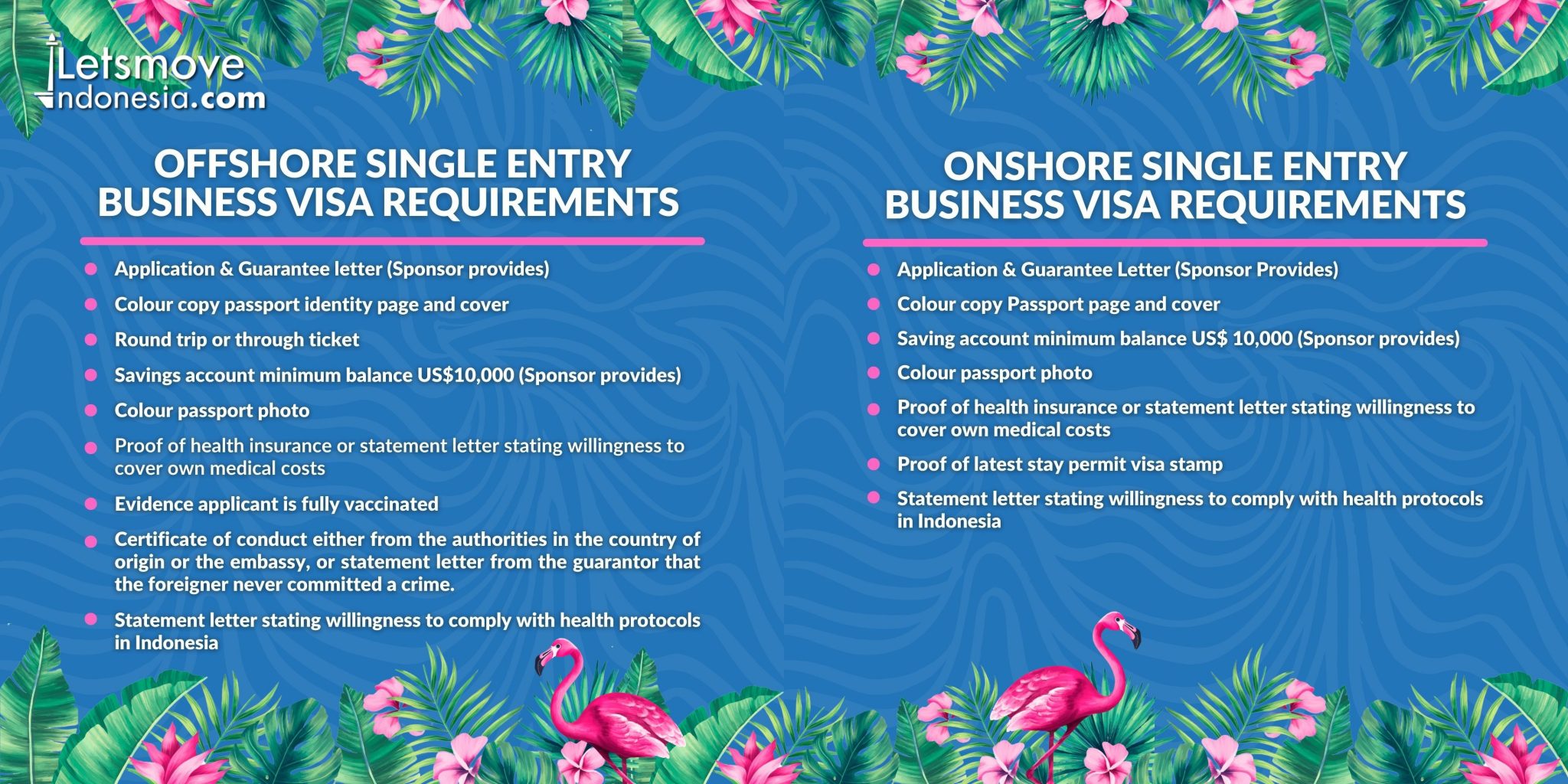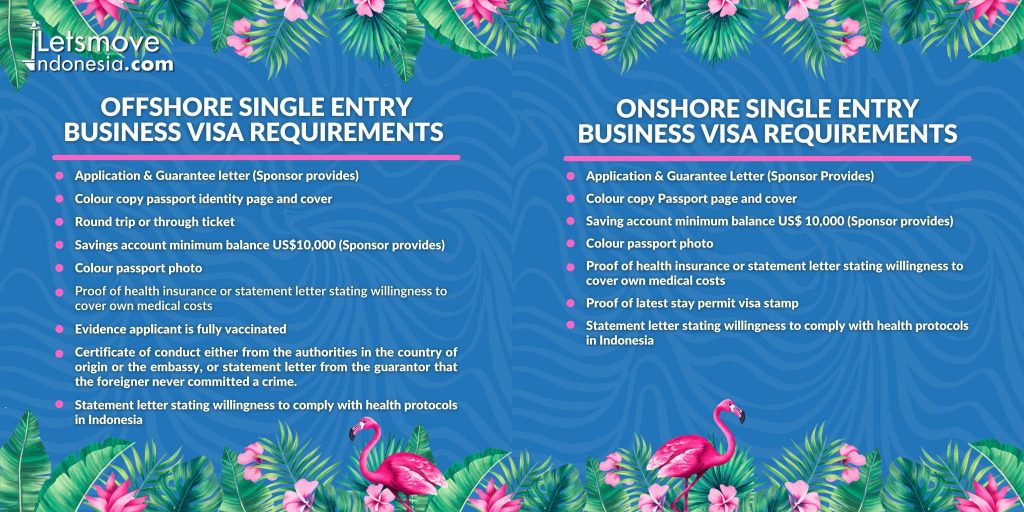 Hopefully, there will not be any more random and unnecessary updates, but when there is, you can find it here first.
As always, if you have a questions, need advice or need a Trustworthy agency to help with your visa needs, contact us at: WA: +62 811 1286 948 T: +62 21 300 297 27 (Jakarta) T: +62 361 934 8343 (Seminyak Bali) T: +62 361 939 9406 (Canggu Bali) E: info@letsmoveindonesia.com
***Previous NEWS UPDATE 30th September 2021***
On 28th September on the official immigration website of Indonesia: imigrasi.go.id, immigration authorities released an article advising the requirements for onshore and offshore applications. The author Ajeng Rahma Safitri states:
"For offshore visas, there are three additional requirements that foreigners must meet, including proof of a complete dose of COVID-19 vaccination, a statement that they are willing to comply with the health protocols applicable in Indonesia, then health insurance or travel insurance that includes health financing. If there is no insurance, it can be replaced with a statement that you are willing to pay independently if you are affected by COVID-19 while in Indonesia," explained the Head of the Public Relations Sub-Division of the Directorate General of Immigration, Achmad Nur Saleh.
Achmad continued, "the three additional requirements are sufficient if a foreigner applies for an offshore visit visa. However, if a foreigner wants to apply for an offshore limited stay visa, then there are other additional requirements that must be prepared."
"For applicants for a limited stay offshore visa, there are two additional requirements. Foreigners need to attach a Certificate of Good Behaviour from the competent authority in their country, as well as a Certificate of Free from Infectious Diseases. This last letter can be obtained from the local hospital, in the form of a statement from the examining doctor," he added.
"Meanwhile, for onshore visa applications (foreigners who are already in Indonesia), additional requirements that need to be completed are:
Statement letter willing to comply with all applicable health protocols in Indonesia
2. Proof of ownership of health insurance/travel insurance which includes health financing, and/or statement letter willing to pay independently if affected by COVID-19 while in Indonesia, and
3. Proof of Permit Last stay for holders of a Visit Stay Permit, or return of Immigration Documents (Exit Permit Only/EPO) for holders of a Limited Stay Permit."
"There are also questions from the public regarding the column for the Covid-19 vaccination certificate (certificate) in the onshore visa application. In terms of regulations, there is no mandatory vaccination certificate, and currently it is being processed in a systematic way," said Achmad.
Therefore, according to this update for Single Entry Business Visas (Offshore Visit Visa) it is not required to obtain a 'Free from infectious disease' document, nor the 'Certificate of Good Behaviour from the country or origin'.
We have contacted immigration who also advised of the same; however, the online submission system is STILL requiring these documents.
We hope the application system is fixed accordingly and authorities can make a united stand on requirements as there has been far too much confusion as of late.
You can see the article at: https://www.imigrasi.go.id/id/2021/09/28/perbedaan-syarat-tambahan-dalam-permohonan-visa-offshore-dan-onshore-terbaru/
Our apologies for all the conflicting news, we appreciate it is hard to understand what is happening, we are going through the same roller coaster of emotions you are.
Please note, that we do our best to report accurate news; however, the news from immigration authorities is extremely conflicting and is causing unnecessary confusion.
We hope that the online immigration system will fall in line with what authorities are telling everyone soon so the application process can return to normal.
*****Original Article September 28th*****
Whilst submitting visa applications on Friday 24th September, we were met with a variety of new requirements for both Onshore & Offshore visa applications. Please note, there was no update or official announcement made prior to the changes to the official online application portal.
We contacted immigration officials in light of these new requirements, who confirmed they also did not know this was happening; however, these requirements are now mandatory.
The new requirements for Offshore & Onshore Single Entry Business Visas can be seen below: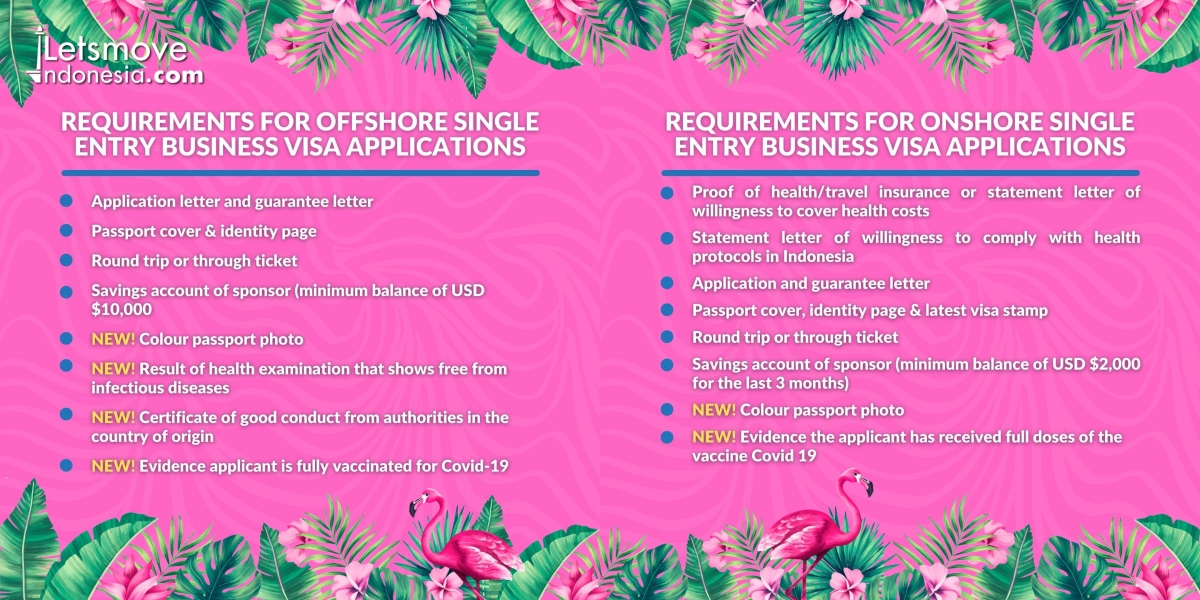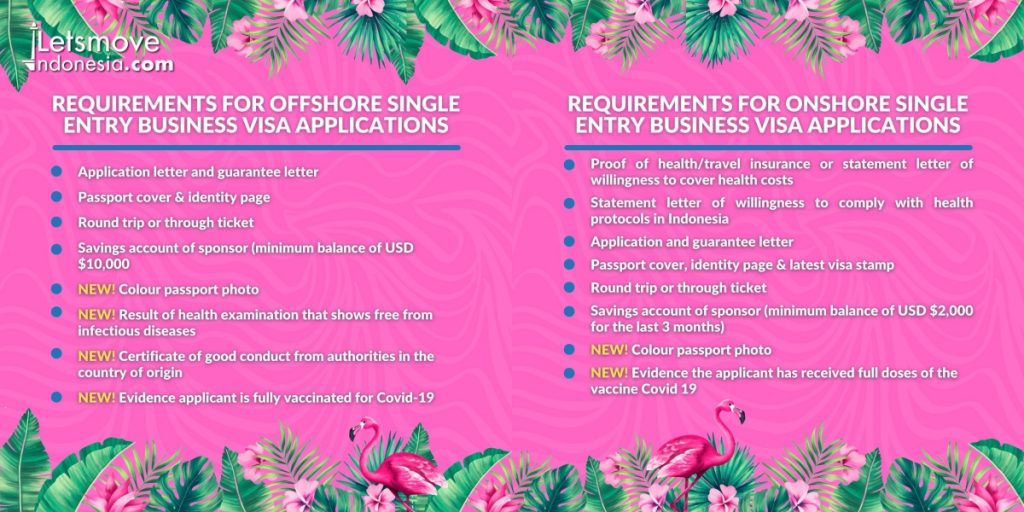 Additional requirements to all offshore applications
The Single Entry Business Visa is not the only visa that has been effected, at time of writing all offshore visa applications must now include:
Evidence applicant is fully vaccinated for Covid 19
A colour passport photo
Certificate of good conduct from authorities in the country of origin
Result of health examination that shows free from infectious diseases
If you are wondering what a certificate of good conduct looks like, so are we. No example has been given by immigration as to what they actually want. From discussions with immigration staff, it would appear they require a police report showing your previous (hopefully empty) criminal record history.
Additionally, no examples have been given regarding the "result of health examination from infectious diseases". It would appear they require a letter from a doctor advising you have no Covid/infectious disease symptoms and are fit to travel. This letter essentially replaces the negative PCR test they demanded previously for visa applications.

Additional requirements for all onshore applications
If you are applying for any onshore visa you must now provide:
Evidence applicant is fully vaccinated for Covid 19
Provide a colour passport photo
Please note, Indonesian authorities have made a calamity in assisting foreigners in Indonesia using Business Visas to get vaccinated. There has been no clear answer as to where people using the business visa may get vaccinated, nor price.
We will continue to search for credible leads for where people can get vaccinated & share the information when/if we find it; however, please note, if you cannot get vaccinated before the end of your business visa, you will not be able to apply for a new one.
Notes regarding the changes
We are equally disappointed and confused by immigration authorities move to change requirements and to the extent of these changes. Offshore visa applications were closed for almost 3 months, so before opening the online registration, that would have been the most convenient time to have made changes to requirements to avoid confusion – not 1 week later, which is what has happened.
We are still learning about the updates and hopefully we can be more confident in our answers when authorities finally release accurate information.
Additionally, there are already rumours between immigration staff that some these changes may have been unnecessary, so don't be surprised if they change these requirements soon. They still haven't released any official statement yet on their social media channels advising of the changes, so it wouldn't be the greatest shock if they back track or change the requirements again after creating pandemonium over the last few days.
As always, we will do our best to provide accurate information of the news as and when it happens.
As always, if you have a questions, need advice or need a Trustworthy agency to help with your visa needs, contact us at: WA: +62 811 1286 948 T: +62 21 300 297 27 (Jakarta) T: +62 361 934 8343 (Seminyak Bali) T: +62 361 939 9406 (Canggu Bali) E: info@letsmoveindonesia.com
Found this article interesting? Then check out these useful guides about Visa & Company Registration processes in Indonesia!
Offshore Visas To Enter Indonesia Are Available Again!
Need a Single Entry Business Visa to visit Bali or Jakarta? Read this first!
LetsMoveIndonesia – Visa & Company Setup services in Bali
Setup a business in Bali with LetsMoveIndonesia and save money!
The KITAS Process – Everything you need to know before applying for yours!
The investor KITAS – Everything You Need To Know!
Company Establishment – Now available in only 2 weeks!
Company Establishment in Indonesia – Your questions answered