After introducing our Onshore Single Entry Business Visa Promo in August, we are delighted to be bringing it back for September!
In August over 150 people took advantage of our onshore sale, saving collectively over 60,000,000 IDR! Want to save money as well? Well, now is the time!
Save 400,000 from our normal price and get your visa from the Number 1 Agency in Indonesia.
*Please note that this offer is only until 30th September and applies to onshore applications only.
About the Onshore Single Entry Business Visa
The onshore Single Entry Visa allows foreigners to stay in Indonesia for a maximum duration of 5 months.
The initial onshore visa provides the foreigner with 30 days visa validity and can be extended 4 times, each additional extension providing a further 30 days.
Please note that this visa is a Single Entry Business Visa, not a multiple entry visa, so if you leave the country the visa will no longer be valid.
To find out more about the Single Entry Business Visa, click here!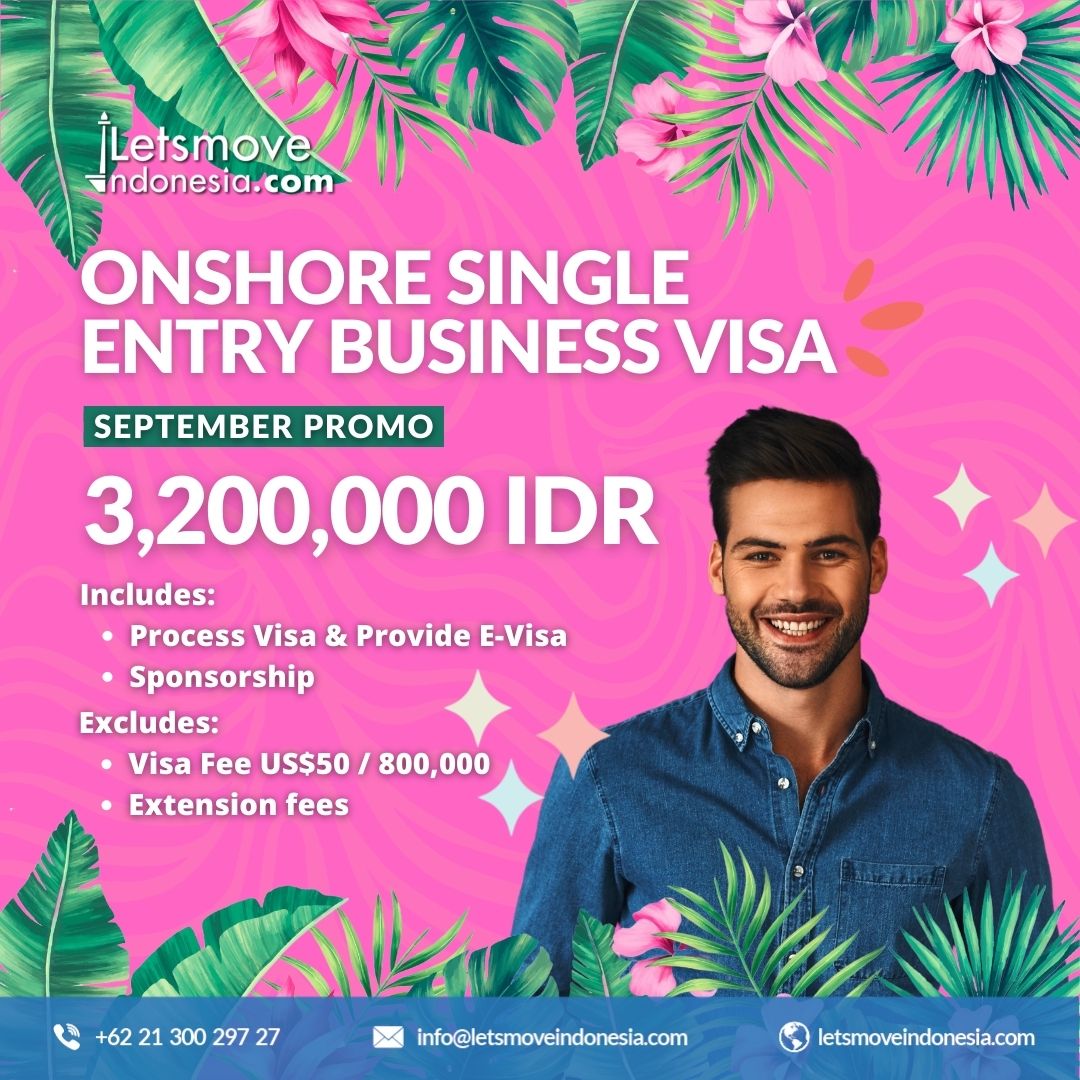 Requirements to apply for the Onshore Single Entry Business Visa (B211B)
Passport with a minimum 12 months validity
Scan of passport details page & passport cover
Negative PCR (Polymerase Chain Reaction Test) with QR code (Required for application)
Proof of health insurance or travel insurance / Statement letter advising you will pay any Covid related medical expenses (Statement letter provided by LetsMoveIndonesia if required)
Statement letter for quarantine willingness (draft provided by LetsMoveIndonesia)
Outbound Flight ticket (only if available)
Cooperation Agreement with LetsMoveIndonesia (Agreement provided)
Scan of previous visa stamp (E.g. last visa extension stamp/EPO)
Single Entry Visa Extensions
Our prices for visa extension in Jakarta or Bali vary slightly:
Bali: Our visa extension prices vary between 1,000,000 – 1,300,000 depending on the urgency of extension. We advise customers to hand in their passport to us with plenty of time to avoid additional cost.
Jakarta: Our visa extension price is 1,300,000.
Additional Notes: Currently we can only have offices in Jakarta & Bali area – speak to one of our team if you require extensions outside Jakarta & Bali.

Why use LetsMoveIndonesia for your Onshore Single Entry Business Visa?
LetsMoveIndonesia is the agency responsible for making a reasonable price in Indonesia for the Single Entry Business Visa and the first agency in the country to offer the service at our pre Covid price.
We are the market leading agency in the country, with offices in Kuningan Jakarta, Seminyak Bali, as well as our newest office in Canggu Bali.
Commonly referenced by expatriate magazines as Indonesia's Most Trusted Agency due to our transparent pricing and ethical values, LetsMoveIndonesia truly is the trendsetter of Visa Services in Indonesia.
Looking to get your Onshore Single Entry Business Visa from the number 1 agency in the country? Then contact us for a free consultation. T: +62 21 300 297 27 (Jakarta) T: +62 361 934 8343 (Bali) WA: +62 812 9260 0590 or E: info@letsmoveindonesia.com
Found this article interesting? Then check out these useful guides about Visa processes in Indonesia!
Need a Single Entry Business Visa to visit Bali or Jakarta? Read this first!
LetsMoveIndonesia – Visa & Company Setup services in Bali
Setup a business in Bali with LetsMoveIndonesia and save money!
The KITAS Process – Everything you need to know before applying for yours!
The investor KITAS – Everything You Need To Know!
Company Establishment – Now available in only 2 weeks!
Company Establishment in Indonesia – Your questions answered