Late in the day on Wednesday 21st July, Indonesian Immigration authorities made the shock announcement that they would be restricting foreigners from entering Indonesian territories yet again.
As per usual, information isn't complete, is announced with no prior warning and tends to raise additional questions, but from what we can see, all foreign nationals are prohibited from entering Indonesia during the emergency lockdown (emergency PPKM). The travel prohibition to enter does not include:
Holders of Diplomatic & Official Visas
Holders of Diplomatic & Official Residence Permits
Holders of Temporary Stay Permits (ITAS) & Permanent Stay Permit (ITAP)
Those with Medical Purpose & Humanitarian Reasons approved by an official letter from competent authorities in handling Covid-19 outbreak
Active Crew Members who arrive by their transports
Unfortunately, those travelling with Single Entry Visas – B211 are currently not allowed to enter Indonesia.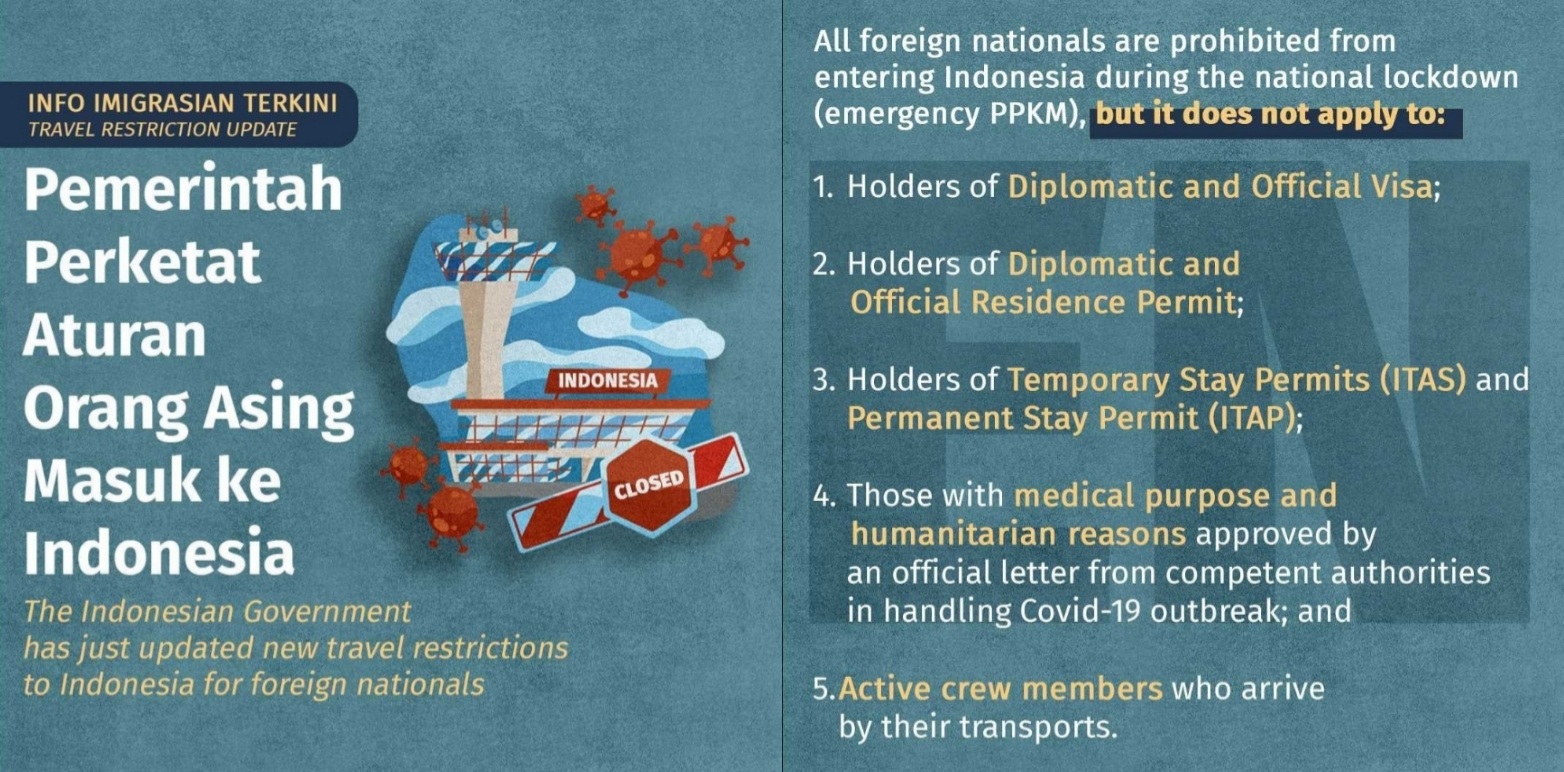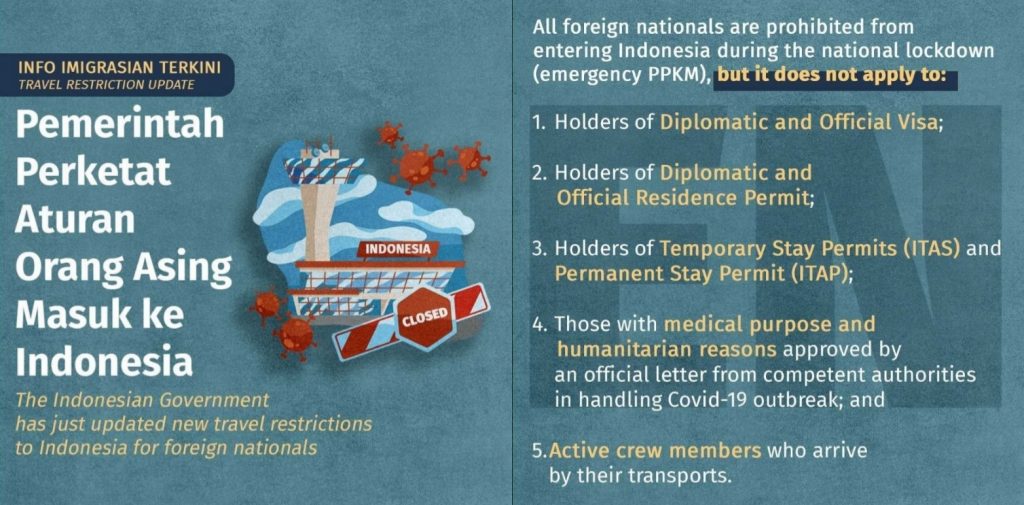 Questions & Answers
If I am travelling to Indonesia right now on a Single Entry Visa (B211) can I still enter Indonesia?
Yes, but the grace period is only until 23rd July.
How long will this last for?
It says it will apply during the national lockdown. The original end date was end of July, then a few days ago, they brought this forward to 25th July – pending the situation. It seems incredibly pointless to disrupt the foreign nationals from entering Indonesia for 4 days, so assume the lockdown will continue or there will be more updates.
UPDATE: On Sunday 25th July President Jokowi made an official announcement that the social restrictions  have been extended again until 2nd August. Single Entry Visas may still not enter Indonesia and applications for foreigners oversea are still closed.
Can I apply for any offshore visas at this time?
You cannot apply for any offshore visas at this time.
If I already have submitted my offshore visa application, will it still be processed?
It appears that visa applications will be on hold at this time, although we are still investigating this
If I have an E-VITAS, but not converted it to KITAS yet, may I still enter Indonesia?
Only KITAS & KITAP holders can enter Indonesia during PPKM. If you still hold E-VITAS, you are not permitted entry at this time.
As always, we will do our best to answer your questions. We are also learning and understanding what has happened and how this effects people, so please be patient, we will do our best to provide clear and correct information as and when it comes. T: +62 21 300 297 27 (Jakarta) +62 361 934 8343 (Bali) E: info@letsmoveindonesia.com
Found this article interesting? Then check out some of our other popular articles!
New requirements for submitting visa applications in Indonesia
Indonesia quarantine now 8 days, foreigners must be fully vaccinated
LetsMoveIndonesia – Visa & Company Setup services in Bali
Get your Single Entry Business Visa and enter Indonesia
Setup a business in Bali with LetsMoveIndonesia and save money!
The new E-Visa – Everything you need to know!
Need a Single Entry Business Visa to visit Bali or Jakarta? Read this first!