***NEWS UPDATE***
On Sunday 4th April, Immigration Authorities announced via their official channels that they will be scrapping last weeks update regarding applying for authorisation via email to the Directorate of Immigration, before applying for new offshore visas.
This news update is great news for people that would like to visit Indonesia, as the process is significantly easier without the step added last week.
LetsMoveIndonesia is proud to advise we are back to processing visas at our low advertised prices and are ready to assist you!

Want to get your new visa? Then contact the LetsMoveIndonesia Team! 
T: +62 21 300 297 27 (Jakarta) or T: +62 361 934 8343
Or visit us in our offices and meet our friendly team! LetsMoveIndonesia, UG Floor Bellagio Mall, Mega Kuningan, Jakarta or LetsMoveIndonesia, 105 Sunset Road, Seminyak, Bali.
—————————————————————————————————————————-
News below is from the update on 29th March, Please discard now as the authorisation step has been removed as per 5th April 2021 in the above notes.
On Sunday 28th March 2021 an official update was made from Indonesian Immigration authorities advising that Offshore Visas for Indonesia are available again, but with additional steps to obtain a visa.
So, what does this mean, who does this apply to and how does it work. In this article LetsMoveIndonesia breaks down the update.
The new update regarding the new rules for Visas and stay permits was announced via a new Immigration circular letter number IMI-0661.GR.01.01 of 2021 (Indonesian PDF Version Below).
SE Dirjenim Nomor IMI-0661.GR.01.01 Tahun 2021 Tentang Ketentuan
It was swiftly followed by announcements on their official Instagram account: ditgenimigrasi (No English Version as of yet).
It basically translates that:
Foreigners that can now enter Indonesia are holders of the following visas:
Service visa
Diplomatic visa
Visit visa
Limited residence visa
Official stay permit
Diplomatic stay permit
Limited stay permit
Permanent stay permit
Transportation crew members who come using their own means of transportation
Asia-Pacific Economic Cooperation (KPP APEC) Businessman Travel Cardholders
International transit passengers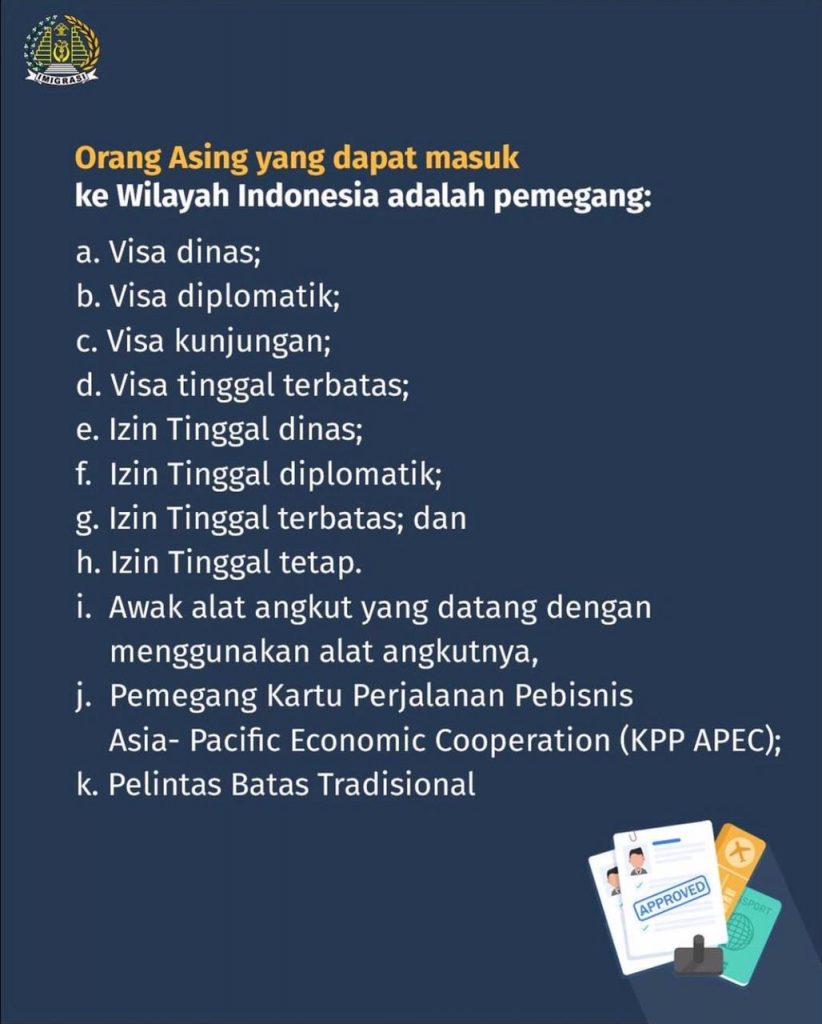 Visit visas that can be granted are for foreigners who carry out the following activities:
Emergency and urgent trips
Undertaking business talks
Purchasing goods
Skills testing for prospective foreign workers
Medical and food aid and support personnel
Joining a ship or other means of transportation in Indonesia
As for the limited stay visa, it can be issued to carry out work and/or non-working purposes.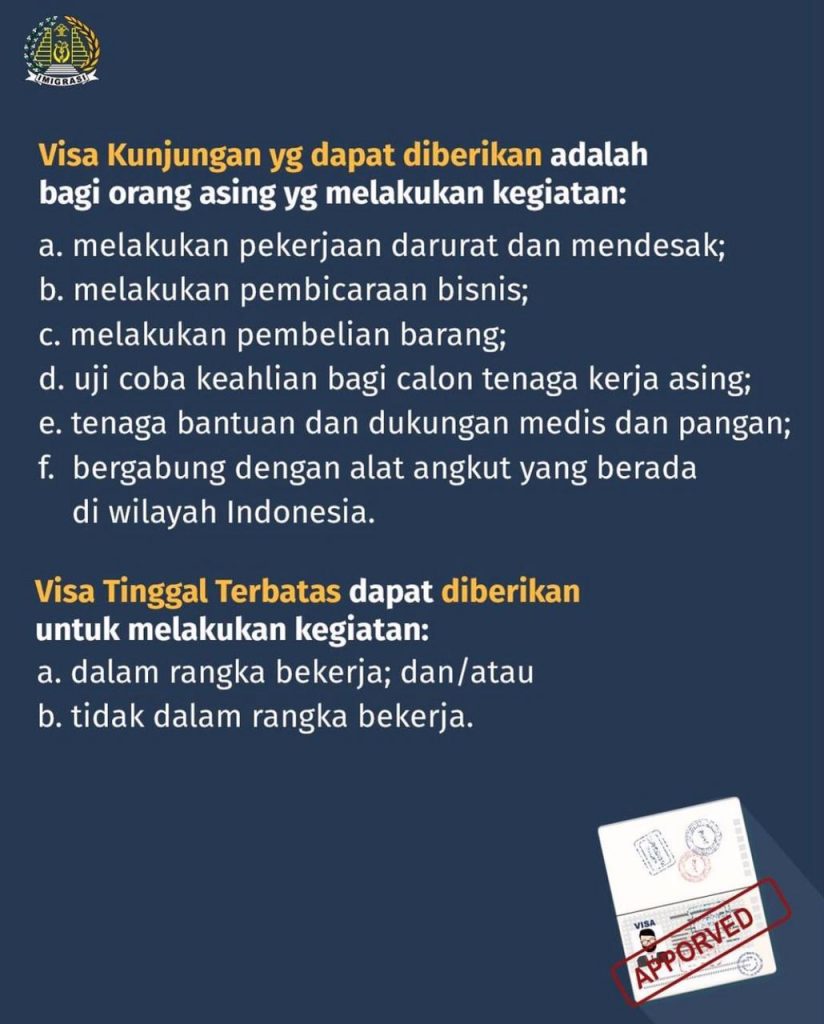 Limited stay visa for work can be granted to foreigners in the following cases:
As an expert
Joining a ship, working on offshore equipment, or installations operating in the archipelago waters, territorial sea, or continental shelf, as well as the Indonesian Exclusive Economic Zone
Supervising the quality of goods or production
Performing inspections or audits at company branches in Indonesia
Servicing after sales
Installing and repairing machinery
Performing non-permanent work in the context of construction
Prospective foreign workers who will work in the context of testing skills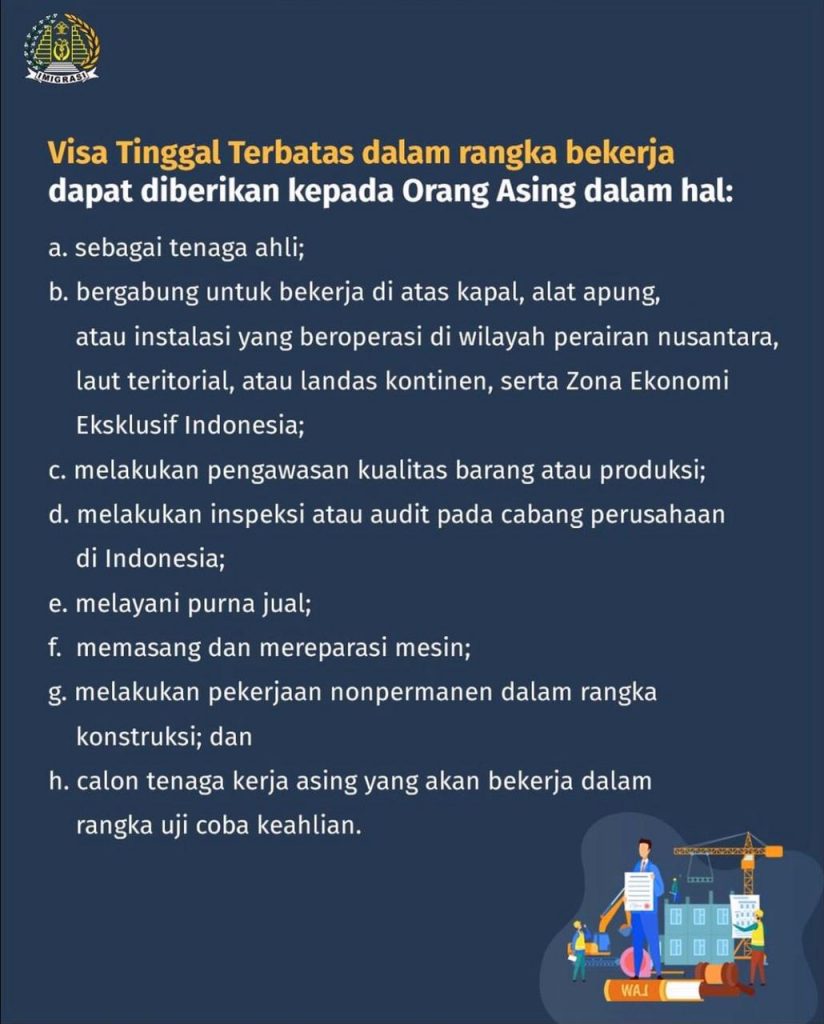 Meanwhile, a limited stay visa for non-working purposes can be granted to foreigners in the following cases:
Conducting foreign investment
Family reunification
International elderly tourists
Visa on arrival & visit visa cannot be applied.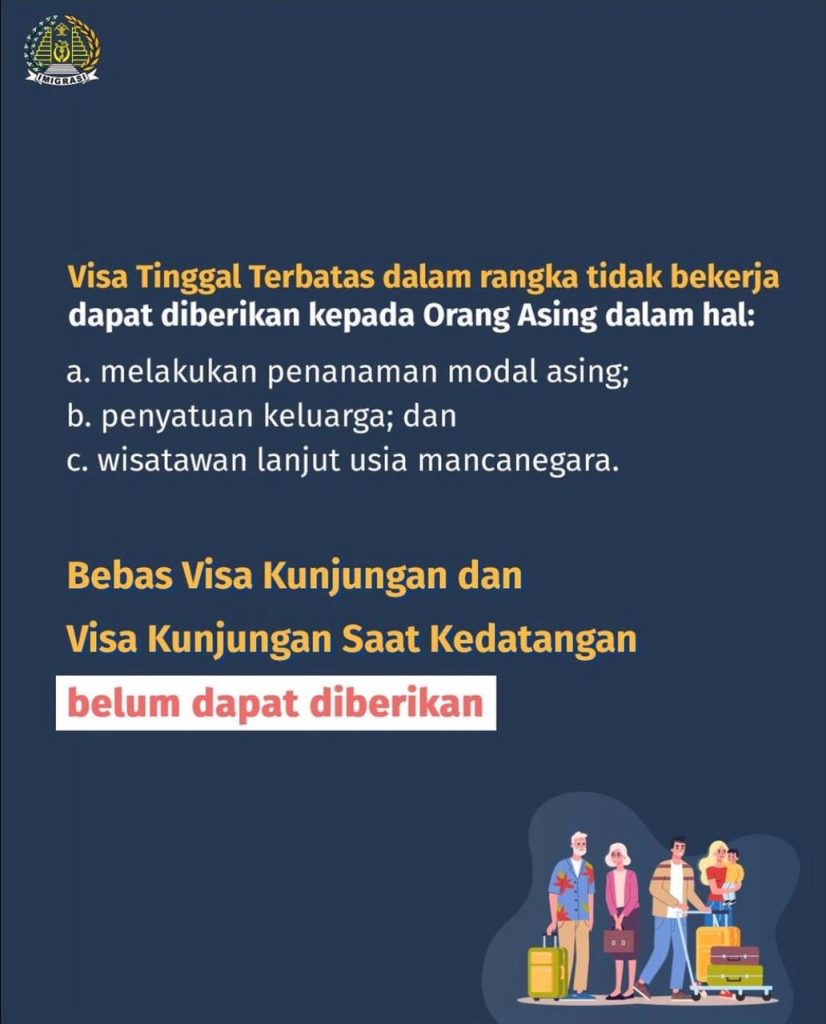 Visa applications can only be done by attaching an application letter addressed to the Director-General of Immigration and sent to visa@imigration.go.id. Or via contacting a visa agent.
The following documents will need to be attached:
Guarantor's identity documents
Applicant's identity documents
The email address of the guarantor
The account ID number from visa online registration
Application number of any previously applied for a visa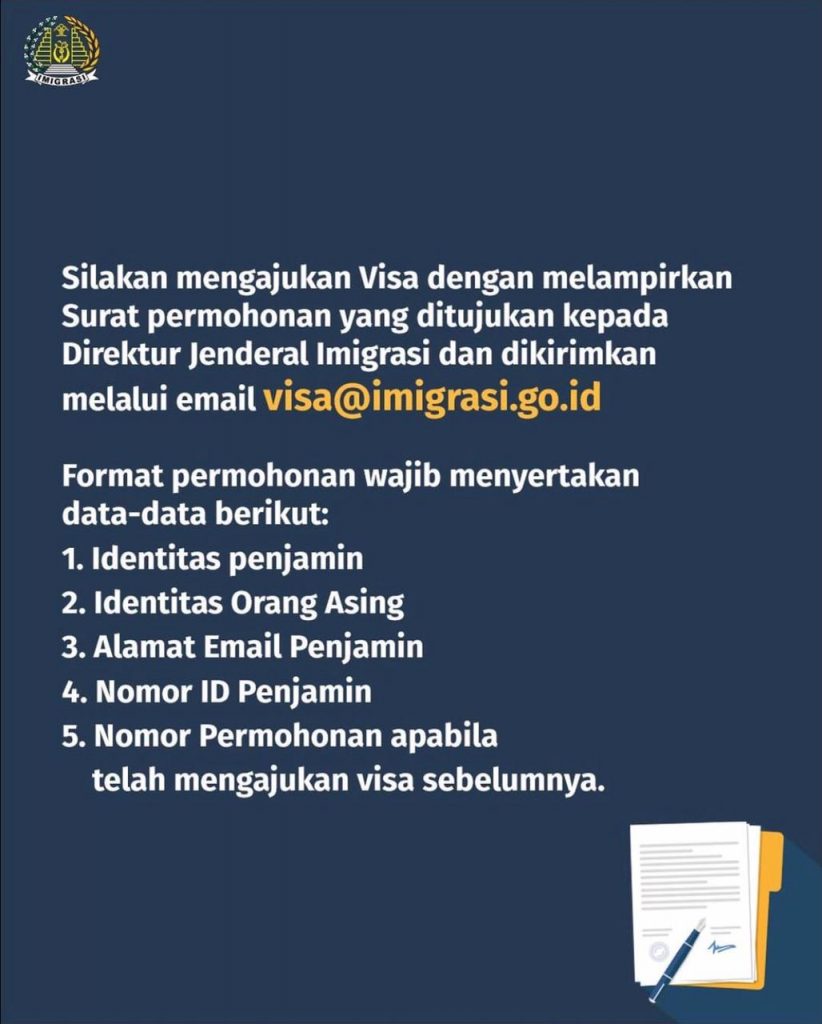 Common Questions:
What has changed and what does this mean for new offshore visas?
The big question is – can foreigners apply for offshore visas, then the answer is yes; however, it can only be done manually by applying direct to the Director-General of Immigration. It makes no note to time frame or additional costs for authorization.
How does the new system work?
From our understanding, once you have sent an email to Director-General of Immigration and they have approved your application, they will send a 'token number' to the applicant via email. Once received you can apply for the visa.
Currently 29/03/21 there is no section on the official website to enter any 'token number', so whether this will remain a manual submission or later allowed via online, we cannot say for certainty.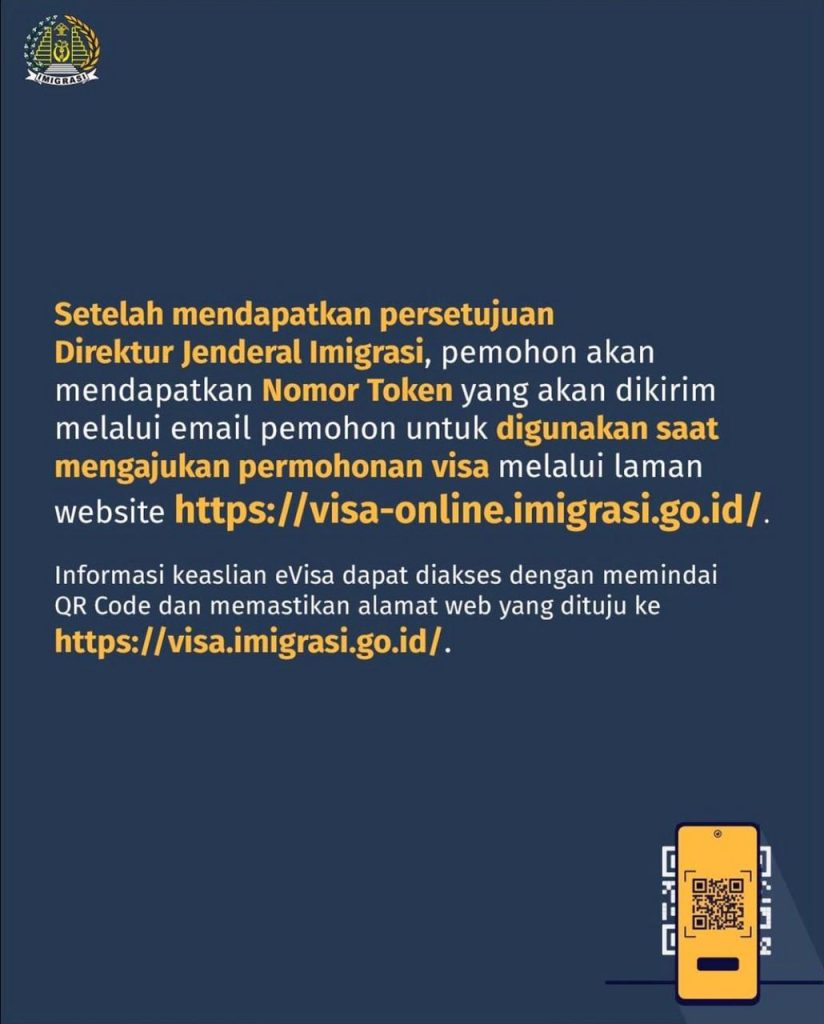 Can you apply for offshore visas online?
If you have a token number then yes; however, as previously stated above, at the time of writing this article there is no section to input any such numbers.
When will offshore applications online be available again without the need of an application letter?
Still no official date has been set.
Can LetsMoveIndonesia assist with the application of offshore visas?
We are still researching how this works and if there are any additional costs involved. As soon as there is more solid information, we will update this thread.
If I have a question, who should I contact?
You can check out the official website of immigration at: https://www.imigrasi.go.id/ or check out their official Instagram account: ditgenimigrasi.
Additionally, you can ask the LetsMoveIndonesia team at: E: info@letsmoveindonesia.com or T: +62 21 300 297 27 (Jakarta) or T: +62 361 934 8343
Found this article interesting? Then check out these useful guides about Visa & Company Setup processes in Indonesia!
Get your Single Entry Business Visa and enter Indonesia
The new E-Visa – Everything you need to know!
The KITAS Process – Everything you need to know before applying for yours!
The investor KITAS – Everything You Need To Know!
Company Establishment – Now available in only 2 weeks!
Company Establishment in Indonesia – Your questions answered